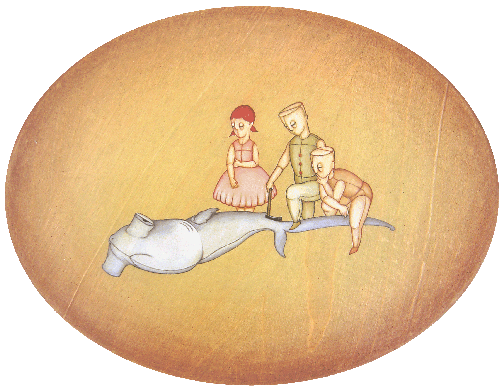 The upcoming exhibition at Mercantile Coffee House is For Lorn and Stature by Pamela Henderson. Henderson was born in Dallas and raised on a ranch in Union Valley, a rural area with a very small population northeast from Dallas. She received her BFA in Communication Design from Texas State University and later received a BFA in Illustration with Distinction at the Art Center College of Design in Pasadena, California. Henderson has been an active participant in the art world, having exhibited in numerous galleries around California, New York and Texas. Recently she exhibited in spaces such as the Paramount Pictures Studio in Los Angeles and at an Alumni Invitational at Texas State University.
Henderson's paintings are inspired by nature, anthropology, philosophy and linguistics. The imagery in her works ranges from portraiture to narrative scenes that strive to create a dichotomy for the viewer to interpret. Henderson's influences include surrealism, folk art, discarded nostalgic ephemera and archaic machinery. She focuses largely on the aesthetic and compositional value of her pieces that manage to elicit beauty and malevolence at the same time.
The opening reception will be September 22 from 6:00pm to 7:30pm. Pamela Henderson:  For Lorn and Stature will be on view at Mercantile Coffee House through October 22.