THE MAC IN PARTNERSHIP WITH PROMISE OF PEACE AND TIERRA FIRME
IS PLEASED TO ANNOUNCE THE MAC GARDEN,
A COMMUNITY GARDEN AND NATURAL DYE GLEANING GARDEN
LAUNCHING IN FEBRUARY 2018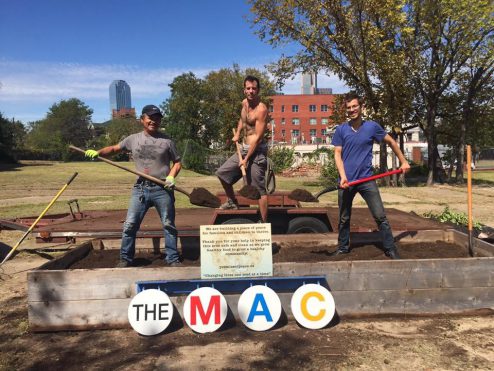 The POP team installing the first raised bed at The MAC
The MAC, in partnership with Promise of Peace Gardens and art collaborative Tierra Firme, is pleased to announce its plans for The MAC Garden, a community garden focused on providing growing space, fresh produce, and natural dye materials for community members and artists living in the Cedars neighborhood and greater Dallas. Community meetings will be held Tuesday, December 12, 7-9; Thursday, January 11, 7-9; and Saturday, January 13, 12-2 at The MAC Office located at 1501 S Ervay St, 2nd floor (entrance through Ro2 Art).
As The MAC continues to utilize the ample outdoor space at 1601 South Ervay as a venue to present works of art accessible to all, the organization extends this mission of public engagement with the founding of The MAC Garden.
The MAC Garden is created as a place where art, community, and sustainability connect. It will consist of the more traditional community garden model with beds leased to community members for $150/annually. Two additional beds will be utilized as a collective community gleaning garden where anyone who contributes to their maintenance may glean from them – one of these beds will focus on the cultivation of natural dye plants to be used by local artists and creatives.
The gleaning garden is in place for community members who need it most, for garden-based learning, and for artists. The MAC will provide some gardening tools and assistance to equip these community members.
Many residents of the Cedars have limited access to fresh, affordable, and nutritious food. Located within a USDA food desert, The MAC Garden will help combat this issue by providing access not only to food, but also to horticultural, environmental, and cultural education. Several other community needs make the provision of fresh foods especially critical: the Cedars is considered a distressed area by the State; and The MAC's close proximity to various apartment complexes and homeless outreach organizations. The MAC plans to host educational activities and events with outreach to these populations.
Promise of Peace Gardens (POP) transforms vacant spaces into thriving places. POP has built gardens where they deliver programming to children and their families as they explore living a sustainable life. The organization works to grow, harvest and prepare fresh clean food, so children and their families gain access to healthier lifestyles, community involvement and a sense of stewardship for the planet. They have established the Emmanuel POP Garden in partnership with the Emmanuel Lutheran Community Center, the Bayles POP Garden at Bayles Elementary in East Dallas, and a partner garden at Vogel Alcove (across the street from The MAC). POP introduced the "Seed-to-Soul" program at Bayles, which delivers education and hands-on experiences on a weekly basis where teachers and students integrate math, science, literacy and health concepts within the context of the garden.
Tierra Firme (TF) is a project-based collaboration between artists Analise Minjarez and Sarita Westrup. As individual artists, their practice is grounded in fibers and sculpture. Their art installations often explore issues of duality, authenticity, cultural geography, and migration. Amongst other projects, Tierra Firme worked in various capacities with the University of North Texas Natural Dye Garden. Analise successfully helped with the procurement of grant funding for the UNT Dye Garden and designed and developed the layout of the functioning garden. Both artists have taught workshops throughout Texas and are passionate about the education of natural dyes and textiles as a powerful medium for creating fine art. Recently, Tierra Firme was awarded the 2017 Arch and Anne Giles Kimbrough Fund Award from the Dallas Museum of Art.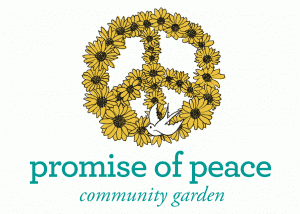 GET INVOLVED!
• Voice opinions at the one of the community meetings Tue, Dec 12, 7-9, Thu, Jan 11, 7-9; and Sat, Jan 13, 12-2 at The MAC Office
• Volunteer to help plan and maintain the garden by contacting rachel (at) the-mac.org
• Donate materials & supplies or provide financial support – contact rachel (at) the-mac.org
• Apply to lease a bed in February 2018 – applications will be posted on www.the-mac.org
• Stay Tuned! Garden activities begin in February 2018, so sign up for MAC emails and follow @themacdallas on social media
WHEN/WHERE
The MAC Garden
Coming February 2018
The MAC
1601 South Ervay Street
Entrance at 1600 Gano Street
Community meetings:
Tue, Dec 12, 7-9
Thu, Jan 11, 7-9
Sat, Jan 13, 12-2
The MAC Office
1501 S Ervay St, 2nd floor (entrance through Ro2 Art)
Getting to the Cedars
The Cedars is located just blocks from the heart of Downtown Dallas south of I-30. By car the Cedars is connected to the metroplex from major arteries: I-30, US-75, I-45, and I-35. The neighborhood is easily accessible by DART lightrail and bus.
DART Cedars Station is just over a quarter mile away from all participating locations along South Ervay Street.
Street parking available throughout the neighborhood.
The MAC Mission
The MAC is a nonprofit organization that stands as a Dallas advocate for creative freedom offering the opportunity for experimentation and presentation of art in all disciplines. It supports the emerging and established artist's role in society by providing a forum for critical dialogue with their audiences. This relationship is cultivated through education and innovative programming.