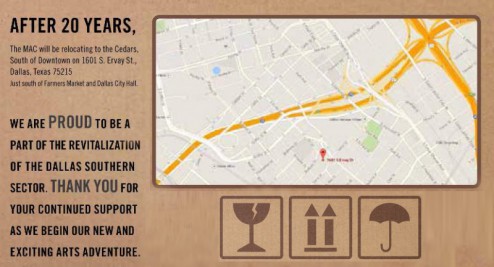 It is true! The MAC is leaving Uptown.
Our last public day of exhibitions is June 27. After that day, we will be packing and moving to our new home in The Cedars.
You can read all the ARTICLES AND MEDIA NEWS HERE.
We plan to reopen at our new address at 1601 S. Ervay St, 75215 in 2016.
Between now and then, lots will be happening!
Keep up to date by signing up for our email newsletter or following us on Facebook.
Stay tuned for more info!
After more than 20 years, these shows are The McKinney Avenue Contemporary's last three exhibitions in its current Uptown location. In the spring of 2016, The MAC is relocating to The Cedars neighborhood, South of Downtown on 1601 S. Ervay Street, just South of the Farmers Market and Dallas City Hall. The five – building complex will include multiple exhibition spaces, a venue for the photographic arts and live theater. The location also allows for a coffee house, restaurant and wine/beer garden.

We are proud to be a part of the revitalization of the Dallas Southern Sector. Thank you to our members and the art community for your continued support as we begin our new and exciting adventure, set to begin at the close of this current exhibition, June 27, 2015.