Help us co– re-create reality-only-better—read a book or donate a book today!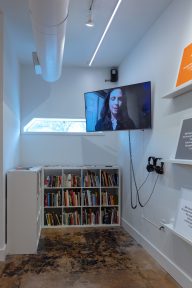 The OccuLibrary is a physical library at The MAC comprised of books on art, politics, economics, philosophy and other subjects as well as fiction, zines, drawings, and other materials assembled through donations. The MAC family invites you to peruse or contribute to the archive anytime during regular hours.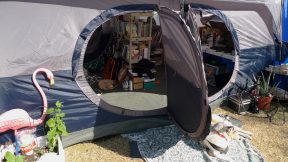 The OccuLibrary project was initiated by Dallas artist Carolyn Sortor and other cultural workers and supporters in 2011 following the eviction of Occupy camps across the U.S. and the destruction of the libraries that had spontaneously sprung up within them (more than 3,000 books were lost in New York City alone). The project was conceived as a rolling collaboration in which various artists were invited to create reincarnations of the destroyed libraries, "using aesthetically-informed strategies to lure awareness toward empowering info."
Reincarnations of the OccuLibrary have taken the forms of, among other things, mobile and "secret" libraries, an exhibition of works by internationally-known artists, a reading group that met for two years, and a series of children's programs. Collaborating artists have included Karen Weiner, Lizzy Wetzel, Greg Metz, Danette Dufilho, Anne Lawrence, Regina Yunker Rudnicki, Oil and Cotton, Frank & Celia Eberle, Sally Glass, Cassandra Emswiler Burd, Andrea Tosten, Michael A. Morris, Carolyn Sortor, and more.
In January 2019, The MAC announced its inaugural exhibition, Working Groups by Carolyn Sortor and Michael A. Morris, in the organization's newly renovated exhibition space at 1503 S Ervay St in the Cedars neighborhood.
Working Groups contextualized the OccuLibrary materials and reviewed some of the accomplishments of the Occupy movement and its offshoots, seeking "empowering info" and inspiration for next steps in both art and "reality."
Various Occupy "working groups" and others including Akshat Tewary contributed to the exhibition, which included a display highlighting changes made to strengthen bank regulations under Dodd-Frank in accordance with a 325-page comment letter sent by the "Occupy the SEC" group.