Beyond Abstraction: Recent Works by Six North Texas Artists
David A. Dreyer, Vincent Falsetta, David McCullough, Michael Osbaldeston, Ricardo Paniagua, and Michael Tichansky
Curated by David McCullough
Andrew Douglas Underwood: The Fall of Bonnie and Clyde
Robin Ragin: Homage to a Mentor

An opening reception will be held Saturday, May 18 from 5:30pm – 8:00pm.
Large Gallery
Beyond Abstraction: Recent Work by Six North Texas Artists
Curated by  David McCullough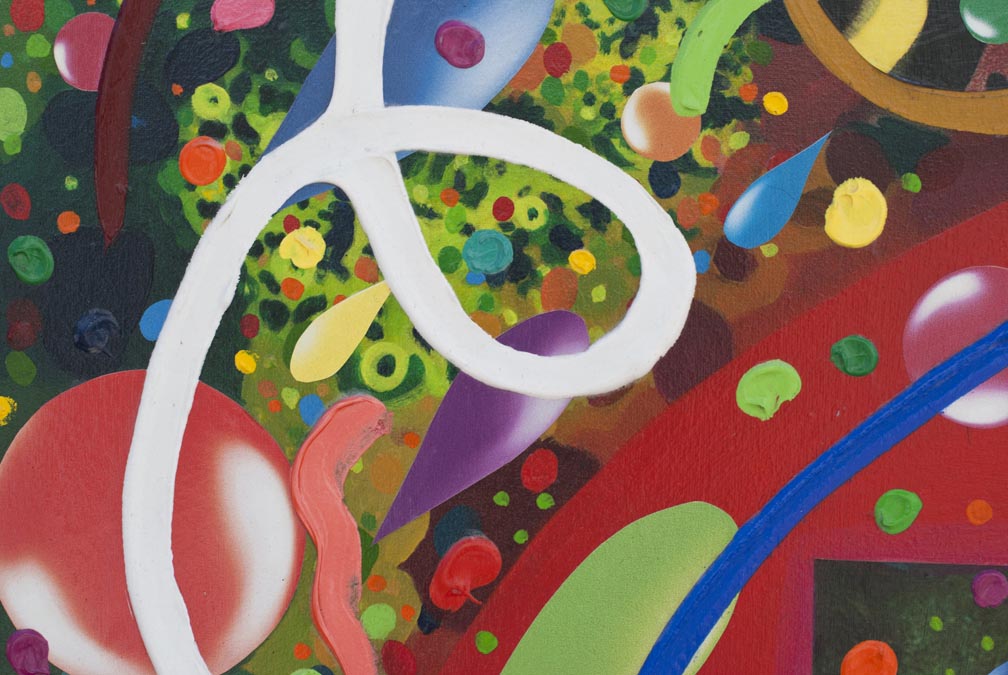 Beyond Abstraction: Recent Work by Six North Texas Artists, curated by David McCullough, is a group exhibition including David A. Dreyer, Vincent Falsetta, David McCullough, Michael Osbaldeston, Ricardo Paniagua and Michael Tichansky. McCullough brings together these six artists in order to explore their relationship to abstraction and the North Texas region. All have a history of exploring conventional and experimental approaches to the abstract art making process and provide an aesthetic study of abstract art work currently being created in North Texas. Beyond Abstraction includes new work by each artist, conceived from considerations of their place in the cultural operating system in which they have chosen to live and work. As a result, they have discovered an aesthetic means of expressing themselves that directly symbolizes what it means to be a North Texas artist.
Beyond Abstraction is curated by David McCullough. McCullough is currently a PhD candidate at the University of Texas at Dallas (UTD) working in the fields of Art and Technology and Aesthetic Studies. He received his MFA from UTD also in the fields of Art and Technology. McCullough has lived and worked in the North Texas region as a practicing artist, scholar and curator for many years. Most recent solo exhibitions include The McKinney Avenue Contemporary, the Mesquite Art Center, and Leedy-Voulkos Art Center in Kansas City, Missouri. Throughout his career, McCullough has completed over seventy solo exhibitions nationally and in Germany. He has completed two artist residencies, one in Australia and recently one in India. Awards and honors include the Moss-Chumley award for painting from the Southern Methodist University, Meadows Museum. Also, McCullough was the first Texas artist to receive the Adolph Gottlieb Award.
Michael Tichansky was born in New York, NY. Tichansky received his BFA from Sul Ross State University and earned his MFA from Stephen F. Austin State University. Tichansky recently presented Michael Tichansky: Works from 2000-2010, a solo exhibition at the Bradshaw Gallery, Dallas Public Library. Tichansky's work is included in permanent collections of numerous museums and private collections including the Museum of East Texas, Lufkin, Texas and the Geometric/ MADI Museum, Dallas, Texas.
Michael Osbaldeston was born in San Jose, California and earned his BA and MA in Art from the University of Dallas. Osbaldeston is a founder and artist in residence at the Cumulus Studios in Irving, Texas. Osbaldeston's diverse works include baroque abstract expressionist paintings, cumulus glass, and monumental sculpture. He has had a solo exhibition at the Arlington Museum of Art, Arlington, TX. His work is in museum and private collections located in 24 states and 9 countries, including The Nasher Sculpture Garden, Dallas, Texas.
Vincent Falsetta lives and works in Denton, Texas as a professor of Painting and Drawing at the University of North Texas. Currently, he is the University of North Texas, Institute for the Advancement of the Arts, Faculty Fellow. Falsetta's paintings in Beyond Abstraction will be the inaugural presentation of a number of works completed in this fellowship. After receiving his BA in Art from Temple University in his hometown of Philadelphia, Falsetta earned his MFA at Tyler School of Art, Temple University, Philadelphia, PA and Rome, Italy. Falsetta has recently exhibited nationally and internationally with the Nancy Margolis Gallery, New York, NY, The Bluecoat, Liverpool, and The Reading Room in Dallas, Texas. Falsetta is represented by Conduit Gallery in Dallas, Texas.
Ricardo Paniagua was born in Dallas, TX. Paniagua is a self-taught artist, informing his own work through a keen observation of the world around him and questioning its history. Paniagua has exhibited throughout the state in more recent years. He recently presented CHAMP!, a solo exhibition with RE Gallery in Dallas, TX. This exhibition featured his latest experiments utilizing painting, casting resins and non-traditional mold-making techniques.
David A. Dreyer  was born in Dallas, and earned his BFA and MFA at Southern Methodist University. He was a recipient of the Moss/Chumley Award from the Meadows Museum and has had solo exhibitions at The McKinney Avenue Contemporary in Dallas and The Grace Museum in Abilene. Recently he had his fourth solo exhibition at Valley House Gallery and Sculpture Garden in Dallas.
Exhibition Sponsors
Anne and John Mullen
Karen and Richard Pollock
Jo Sevin
Brenda Stubel
Square Gallery
Andrew Douglas Underwood
The Fall of Bonnie and Clyde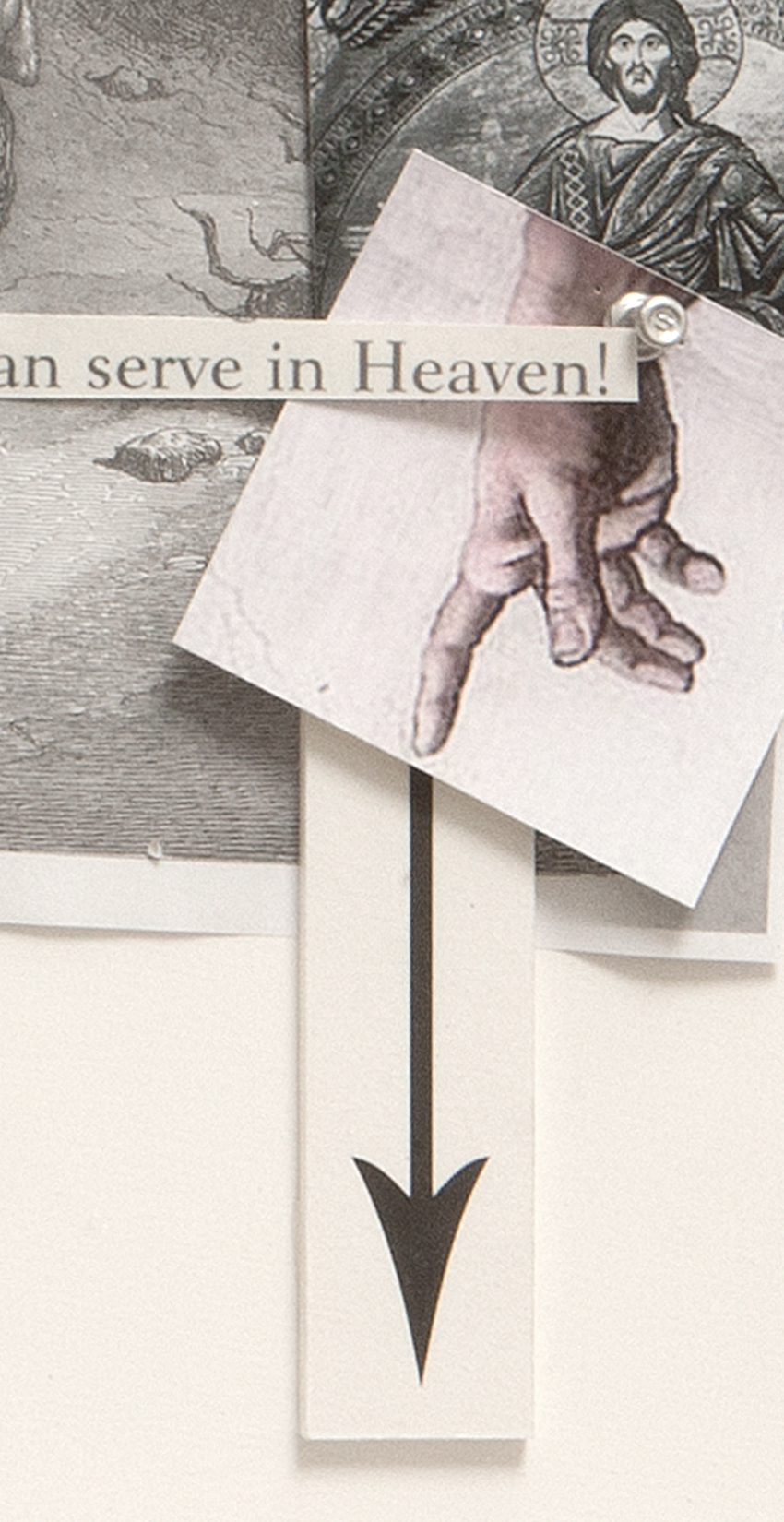 The MAC is pleased to announce The Fall of Bonnie and Clyde, an exhibition by Andrew Douglas Underwood. The story of Dallas outlaws Bonnie Parker and Clyde Barrow is overlaid with symbolic imagery primarily relating to the fall of man. Through a multi-dimensional realization, the work in sound, drawing, painting, text, and sculpture employs the classical artistic device of symbolism, to untether the familiar story of Bonnie and Clyde from historical specificity, allowing a new perspective on their story from an encompassing distance.
This project's foundation is based on extensive research that is distilled to reveal only those details with the greatest potential to be charged with symbolic references. In classical religious depiction the use of symbolism was de rigueur. The image of a serpent was rich with meaning, referencing everything from Satan to sex. Allusions to art history and religion are a key element to this work, because in layering them on a contemporary narrative those associations reseat the narrative in a new context.
Imagery and text from the first few chapters of Genesis in the Bible and John Milton's Paradise Lost turn up in various iterations through the exhibition, not only in what is being depicted but also in the medium in which an image is rendered. Materials such as ash, charcoal, and gunpowder used throughout the show tie into the content of the narrative.
In the larger cultural consciousness Bonnie and Clyde have entered a folkloric realm due to a romanticized retelling of their story. By playing into the larger than life status, The Fall of Bonnie and Clyde refocuses on the timeless theme of the doomed love story and on the larger forces at work on that story, visible or not.
Andrew Douglas Underwood was born in Louisville, Kentucky, in 1974. He lives and works in Dallas, Texas. One-person exhibitions include: Archive of Shadows at the Mildred Hawn Gallery at Southern Methodist University, Dallas, Texas, 2011, and An Evening of Alchemy at The Reading Room, Dallas, Texas, 2010. Austin, Texas-based Pastelegram's online issue #2 was built around Underwood's web-based project, At the Weehawken Dueling Ground, July 11, 1804, 2012. In 2012 Underwood co-founded the Dallas artist collective The Art Foundation.
New Works Space
Robin Ragin
Homage to a Mentor  

The MAC is pleased to welcome Robin Ragin for her first solo exhibition, Homage to a Mentor.  Nearly twenty years ago, Ragin began working in the studio with artist David McManaway. McManaway is renowned for his use of assemblage and his ability to breathe new life into discarded objects. In honor of his memory and the bond that they formed while working together in the studio, Ragin presents her own unique interpretation of these iconic assemblage works, most of which were created in the last two years since McManaway's passing. Her intent is to explore the profound influence that objects can have on us and challenge our perceptions of value and obscurity. The objects in Homage to a Mentor are immediately whimsical, mischievous and a true testament to what it means to be a mentor.
Robin Ragin is currently based in Dallas and has practiced art for the majority of her life. Ragin studied fine art at Harford College, Baltimore, MD, Richland College, Dallas, TX and the University of MD College Park, MD. She also studied interior design at UCLA, Los Angeles, CA. Ragin began her apprenticeship with David McManaway in 1995 which continued until his passing in 2010. In 2009, Ragin participated in the group exhibition Art For The Bridge at the Women's Museum in Dallas.
Homage to a Mentor
Exhibition Sponsors
Stephen J. Azola
Norma McManaway
Bob and Joan Smith