Angel Cabrales
A-Hole in One
Interactive Performance
as part of Cedars Open Studios
Saturday, November 18, 10am-6pm
Exhibition continues:
Sat, Nov 18 – Sat, Dec 9
Wed-Sat 12pm-5pm
Open to the public
Closing reception
Sat, Dec 9, 6-9pm
15th Annual Cedars Open Studios Tour
November 18, 2017 | 10am – 6pm
The MAC is pleased to announce its participation in the 15th annual Cedars Open Studios on Saturday, November 18, 10AM-6PM. In conjunction with Cedars Open Studios, The MAC will present A-Hole in One, an exhibition and interactive performance by El Paso-based artist, Angel Cabrales.
A-Hole in One will be on view Saturday, November 18 through Saturday, December 9, with an interactive performance as part of the 15th annual Cedars Open Studios on Saturday, November 18, 10AM-6PM. The exhibition is open to the public daily Wednesday-Saturday 12PM-5PM.
A-Hole in One examines current political events and perceived societal norms through a consumable and familiar format: golf.
In a time when executive decisions regarding the fate of global politics appear to be determined on the golf course, Cabrales invites the viewer to hold this very power in their own hands. The MAC's outdoor space will be staged as Cabrales' 'global' golfing green, complete with golf greens and golf holes, where viewers can 'play a round' and inform the world of important decisions by way of random tweets. Golf equipment is provided, but participants are encouraged to bring their mobile phones and download the Twitter app.
Cabrales' work reflects the social and political concerns of the day. By manipulating commercial and industrial design, and presenting these issues as an appealing 'product,' he hopes to heighten awareness of the subject matter and begin conversation under the guise of entertainment. Through his interactive approach, Cabrales makes the viewer a part of the work itself and prompts reflection on the current state of affairs, as well as the artist's role in society.
Angel Cabrales received his BFA in sculpture from Arizona State University and his MFA in sculpture from the University of North Texas. He has shown work consistently for over ten years including shows in major cities such as Dallas, Fort Worth, El Paso, and Phoenix and internationally in Juarez, Mexico, and the Bibliothèque Centre Pompidou in Paris, France. He also attended the Rogers Lake residency in Flagstaff, AZ, and participated in the Photo Book, "La Frontera" by German photographer Stefan Falk, which was exhibited in Berlin, Germany. Angel has taught at several universities throughout Texas, including the University of North Texas and the University of Texas at Brownsville. Currently, he is the Visiting Assistant Professor in Sculpture at the University of Texas at El Paso, a board member of the Museum and Cultural Affairs Department and Public Art Committee for the City of El Paso, as well as an independent multi-media artist.
Now in its 15th year, Cedars Open Studios is the largest event of the year in The Cedars. One of Dallas' essential artists' districts, the Cedars, has long been home to a diverse group of Dallas painters, photographers, sculptors and musicians. These artists have contributed to the rich history of the neighborhood. Over 75 venues including galleries and artists' studios will open the public, giving visitors a chance to experience this creative, evolving community, rich in art, history, and entertainment.
Follow the Cedars Open Studios on Facebook, Twitter, Instagram, and www.cedarsopenstudios.com for a map of the event, and more on the artists and sponsors participating in this year's #CedarsOpenStudios.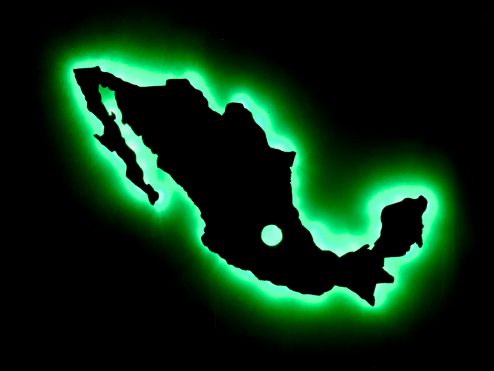 Angel Cabrales, "…and some, I assume, are good people", 2017, Wood and AstroTurf; 53″x65″x2.5″, Image courtesy of the artist
The MAC
1601 South Ervay Street
214.953.1212
Entrance at 1600 Gano St. and street parking on Gano St.
The MAC Mission:
The MAC is a nonprofit organization that stands as a Dallas advocate for creative freedom offering the opportunity for experimentation and presentation of art in all disciplines. It supports the emerging and established artist's role in society by providing a forum for critical dialogue with their audiences. This relationship is cultivated through education and innovative programming.