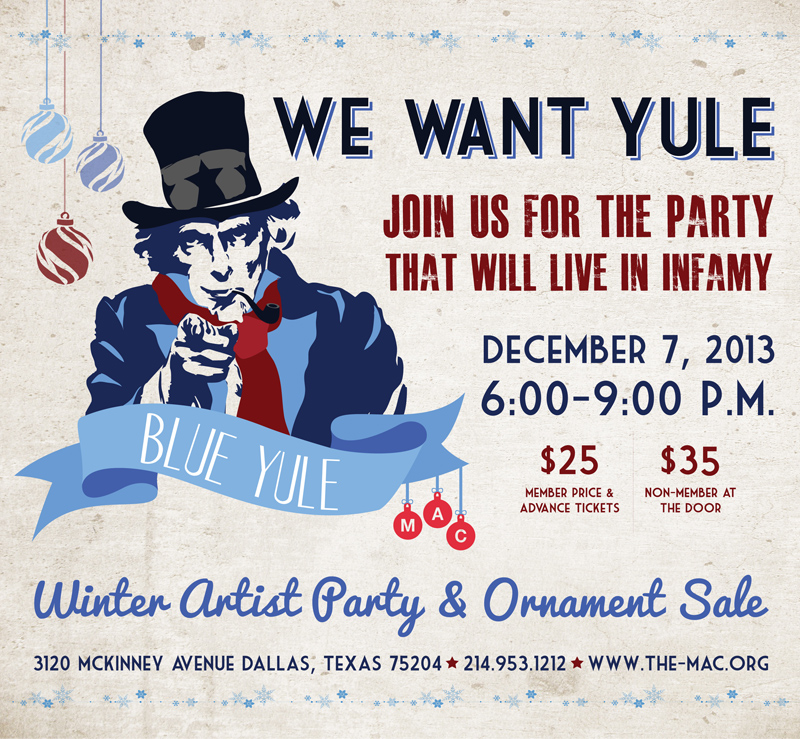 Blue Yule has been Rescheduled

to this Sunday Dec 8th 5-7 !
THE ICE WON!
ATTENTION! Blue Yule has been RESCHEDULED for Sunday, December 8th from 5 – 7pm with all the bells and whistles!!
*We will be still accepting ornaments tomorrow (Saturday) from 12-6!
AND Sunday 10am-1pm
*
The MAC is closed Friday (aka Ice Day!)
'Tis the season…
for the 18th Annual Blue Yule!
Come support your favorite blue art space with our fabulous holiday fundraiser featuring the infamous and highly anticipated ornaments hand-crafted by artists and patrons alike. Merriment will abound in the heart of Uptown from 6 until 9pm on Saturday, December 7.
For our friends with the busiest holiday calendars, let Blue Yule serve as your one stop holiday extravaganza! Surrounded by treats from our favorite restaurants around town, come unwind with our infamous Blue Yule Mystery Punch that'll make you believe in Santa again, and dance till you drop to DJ Mark Ridlen. Best of all, you'll have the opportunity to buy hand-crafted ornaments as gifts or to hang on your very own tree. Holiday shopping is made even easier at our bountiful silent auction organized by our very own MAC Professionals + Artists Collective (MAC PAC)!
Not only is Blue Yule The MAC's favorite holiday tradition, it is our most significant fundraiser with all proceeds benefitting 2014 Artistic and Educational Programming. Next year will feature exhibitions by local and national artists such as Masami Teraoka, Val Curry, Suzanne Anker and the Core Residency Program of the Museum of Fine Arts, Houston. Funds raised at Blue Yule benefit educational programming that is always free and open to the public throughout the year. This past year, The MAC hosted almost twenty Art Talks programmed in conjunction with exhibitions, and in collaboration with local organizations such as the Writers Garret and the highly respected Dallas International Film Festival.
See you on December 7 for the party that will live in infamy! Come and let loose, get festive with friends and family, and give back to your Dallas art community.
ADMISSION:
Members $25 advance purchase or at the door
Non-members $25 in advance or $35 at the door
Advance tickets may be purchased on our website, at The MAC, and at Ro2 Art Downtown.
Admission includes all beverages, food, silent auction, music and the wildest ornaments in town.
Every penny raised by our merrymaking goes directly to keeping The MAC a force for coolness in the Dallas art community!
ORNAMENTS:
Ornament donors will receive a complimentary Artist Level membership to The MAC + TWO for the price of ONE admission to Blue Yule! 
Drop off dates for the ornaments are November 30 and December 4-6, noon to 6pm daily.
A distinguished committee of revelers will bestow awards on artists displaying superior creativity in each of three categories — Most Festive, Most Divine and Most Outrageous. Good luck to all!
For artists with questions regarding the donation of ornaments, contact The MAC at 214.953.1212 or macmembership@the-mac.org.
SILENT AUCTION:
The highly anticipated silent auction is presented by the MAC PAC featuring items from local performance venues, museums, businesses, restaurants and more.
If you are interested in contributing to the silent auction please contact macpac@the-mac.org.
UNDERWRITING:
Underwriting assistance is critical to the success of Blue Yule. Sponsorships are currently available. For more information contact LauraLee Brott at lbrott@the-mac.org or visit the Blue Yule underwriting page on The MAC's website.
VOLUNTEERS:
As always, we will need plenty of help with preparations as well as on the evening of the party. If you would like to volunteer, please contact Claire Roseland at 214.953.1212.
The jolliest of thanks to our 2013 Blue Yule Co-Chairs Susan Matusewicz and Sally Francis. The 2013 Silent Auction is organized by The MAC PAC and Chaired by Logan Smith with Vice Chair Alyssa Chi. 
BLUE YULE UNDERWRITERS AND IN-KIND SUPPORT
Briggs Freeman Sotheby's International Realty
alexandertheturtle
Ard-Knox Insurance, Inc.
Lilly and Chuck Briant
Inette and Josh Brown
C2 Art Advisors
Deborah Colton
Craft and Growler
Laura Green
Dana Greenberg
Ken and Debra Hamlett
Jane and Truett James
Madeline Jobst
Darryl Lauster and Kristin Schwartz-Lauster
Susan Matusewicz
Joan and Jerry Skibell
Ashley Tatum
Missy and Bob Townsend
Cheryl and Kevin Vogel
Nancy Whitenack
BLUE YULE SPONSORS