The MAC is pleased to present Kris Pierce: Boiling a Ship in the Sea on view March 6 through May 4, 2019.
The opening reception for all concurrent exhibitions will be held Saturday, March 9, 6-9 PM with a members' and SGCI attendees' preview and art talk Wednesday, March 6, 6-9 PM, remarks at 7:00.
Kris Pierce: Boiling a Ship in the Sea is interested in individual relationships with digital space and how the lines between characters in both the physical and the digital world are often blurred. As individuals invest more social capital in their digital-self, the dynamic between virtual and physical space becomes a more complicated relationship to navigate.
In Boiling a Ship in the Sea, conflicting identities are navigated by a character whose sense of place feels alienated by the complicated dynamics of existing within a digital world. It is within the "video game" context that ideas relating to violence, war, social dynamics, family, and loneliness struggle to resolve. The initial context of the video exists within the "FPS" or "First-Person Shooter" genre of games, this format bridges the real-world experience to the game environment. This device defines a new characteristic of 21st century human experience, where virtual experiences parlay their baggage onto our physical self and shape how we navigate the future.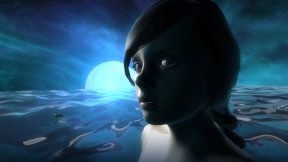 ABOUT THE ARTISTS
Kris Pierce is an artist working in Dallas, Texas. His work explores notions of power, value, and states of consciousness in the context of our modern digital world. He has exhibited internationally in museums, galleries, and public spaces, including recent solo and group exhibitions at the Hiroshima Art Center, Japan; CICA Museum, Gyeonggi-do, South Korea; Gallerie Se Konst, Falun, Sweden; Réunion, Zurich, Switzerland; Circuit 12 Contemporary, Dallas; Blue Star Contemporary, San Antonio; the Dallas Museum of Art; and RL Window, Ryan/Lee, New York City.