On view September 21 through November 9, 2019
Opening Reception Saturday, September 21, 6-9 PM with Performance at 7 PM
Performance by Le'Andra LeSeur Saturday, October 12, 6 PM
Local Performances Saturday, October 26, 6-9 PM
The MAC is pleased to present Cosmic to Corporeal: Contemporary Queer Performance Practices, curated by Liss LaFleur, artist, activist, and Assistant Professor of New Media Art at the University of North Texas. Cosmic to Corporeal is on view September 21 through November 9, 2019 with an opening reception Saturday, September 21 from 6 to 9 PM, including a performance by Jer'Lisa Devezin at 7 PM. Two performance events will be held during the run of the exhibition: a performance by Le'Andra LeSeur Saturday, October 12, 6 PM; and a performance event featuring local artists on Saturday, October 26, 6-9.
Cosmic to Corporeal seeks to provide an intergenerational, and intersectional exchange of artists who are working to redefine the constructs of performance art and identity, specifically in relation to the queer body and the relationship of the body to technology. Curator Liss LaFleur has selected works from an international open call, including, among others, works by: Zackary Drucker, Le'Andra LeSeur, Jonathan Molina-Garcia, and Legacy Russell.
Cosmic to Corporeal expands notions of corporeality through performance, time-based, photographic, and sculptural works. Many of the works in this exhibition reach beyond the typical idea of performance art by prompting the viewer to engage or to consider everyday life as an act of performance. The viewer is encouraged to reflect on the body beyond a physical occupation of space and explore the charged border between 'queered' bodies and society, narratives and politics, or private selves and public views.
Full list of artists included in this exhibition:
ATOM-r (the Anatomical Theaters of Mixed Reality), Christian Cruz, Chuck + George, Zackary Drucker, Fierce Pussy, Jer'Lisa Devezin, Hannes Egger, Kris Grey, Sungjae Lee, Le'Andra LeSeur, Leslie Martinez, Jonathan Molina-Garcia, Cori Olinghouse + Shona Masarin, Martin Wannam Roca, Legacy Russell, and Jesse Treviño.
ATOM-r
Included in the exhibition is KJELL ØR THEY, a film by Julia Pello and ATOM-r 2017; and costumes from the Kjell Theøry performance created by ATOM-r costume designer Grace Duval.
Using an episodic structure, the visual choreography of KJELL ØR THEY is haunted by queer histories and future bodies, occupying sites of anatomy and theater to create an atemporal surreality. The film was made in conjunction with ATOM-r's performance work, Kjell Theøry, and shot on location in a surgical museum, a gay strip club, and a black-box studio. The performance and its film-based permutations respond to The Tits of Tiresias (1917), a surrealist play of gender transformations; and Alan Turing's theory of morphogenesis, a mathematical account of embryo formation that he named for a male Norwegian lover. The sources are ritually interwoven through the misappropriation of a neo-pagan fertility ceremony.
In KJELL ØR THEY Julia Pello and ATOM-r draw on Turing's theory, turning it into a series of visual and poetic and choreographic moving images for the screen, blurring the boundaries between the binaries of physical and virtual space, past and future, male and female, and human and machine.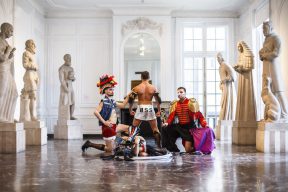 Kjell Theøry is an Augmented Reality performance juxtaposing the writings of Alan Turing—a gay twentieth century computing pioneer—about pattern and shape in the natural world with algorithmic mutations of Guillaume Apollinaire's 1917 play The Breasts of Tiresias, a gender fluid spectacle for which the playwright invented the word "surrealism." The performance considers the last two years of Turing's life wherein he expanded his focus to include biology while seeking asylum and tolerance in Scandinavia following his prosecution for crimes of indecency in the United Kingdom. Turing named his theory of morphogenesis—the autonomous generation of flowers and other natural forms—for a Norwegian love interest, Kjell.
In Kjell Theøry, ATOM-r draws on Turing's theory, turning it into a poetic and choreographic system to blur the boundaries between the binaries of physical and virtual space, past and future, male and female, and human and machine. The collective's process creates a deeply entangled and fertile exchange between the live body and ubiquitously distributed data-driven systems. A project-specific ecology of source material is translated as movement, visualized on screens, and mapped onto bodies and geo-physical space through locative and computer-vision based augmented reality. The performance uses coded systems and augmentation to create a liminal theatre. While the work is inherently variable, it is experienced as a tightly constrained, yet flexible, information pattern that allows for close attention, emergence, and interruption.
ATOM-r (Anatomical Theatres of Mixed Reality) is a provisional collective exploring forensics, anatomy, and 21st century embodiment through performance, language, and emerging technologies. The work is interdisciplinary and evolves through large-scale projects with long durations of research and practice that generate outputs across a range of platforms including Internet art, augmented reality, site specific installation, choreographed movement, books, and objects. ATOM-r was conceived in response to the historical architecture of early modern anatomical theaters, spaces designed for viewing human dissections and early surgical procedures. This physical and conceptual arrangement is used as a symbol throughout their work to explore histories and experiences of the body, sexuality, and prosthesis. From their inception in April 2012 until January 2016, ATOM-­‐r were artists-­in-­residence at the National Museum of Health and Medicine in Chicago. For the whole of 2016, ATOM-r were artists in-residence at The International Museum of Surgical Science, (Chicago) and are now artists in residence at The Graham Foundation for the Applied Arts since the Fall of 2016. They have developed two large scale projects Kjell Theøry (2017) and The Operature (2014) that have toured locally, nationally and internationally. They began their third large scale project in the Fall of 2017 The Beautiful Holy Jewel Home of the Original Rhinestone Cowboy and plan to premier this in the winter of 2021. ATOM-r has developed projects for traditional and nontraditional spaces, in physical and virtual spaces. In creating the works ATOM-r has collaborated with sculptors, painters, new media artists,  printers, photographers, costumer's, jewellers, filmmakers, make up artists, sound and lighting designers. Recent performances and exhibitions include: Graham Foundation, Chicago, Victoria and Albert Museum, London, Chisenhale Dance Space, London, Alfred De Vrove, Prague, International Museum of Surgical Science, Chicago, Performance Arcade, Wellington, NZ, Australian Centre for Moving Image, Melbourne and 606 Trail, Chicago.
http://atom-r.com/ | https://www.facebook.com/atomrmixedreality/ | http://atom-r.tumblr.com/ | https://www.instagram.com/atomr_performance/
Christian Cruz
A relic and text from Cruz' "Only Yung Emo Femmes Allowed," 2014 performance are included.
With a bit of anger, poetry, humor, dance, pain, resistance and strength, Christian Cruz' performances always rely on materials as metaphors for something greater. As a first generation American, her performances share Mexican history and customs as a form of activism due to historical erasure and border politics. Other themes in Cruz' work include love, sex and marriage, and Chicanisma, often informing the viewer of her gender fluidity and pansexuality.
Christian Cruz (b.1989) has been creating live events programmed by institutions since 2010; ranging from solo performances to large scale group performances, and site specific works incorporating installation, poetry, and technology. Cruz has presented works at Dfbrl8r Performance Art Gallery, Wicker Park Fest, and Mana Contemporary, Experimental Action in Houston, Performance is Alive in Satellite Art Fair, Black Box Theater in Boston for the Arts, among other spaces. Cruz has held a poetry residency at The National Museum of Mexican Art in Chicago, IL and several teaching residencies for Yollocalli Arts Reach, Redmoon Theater and has guest lectured at SAIC. As a first generation Mexican-American, she thought it was crucial to live and make work in Mexico. She dumped all possessions–and moved to Mexico City, Mexico in 2013. Under the choreography and mentorship of Anabella Pareja Robinson, she performed throughout Mexico City including Museo Universitario del Chopo and Teatro de Danza among other museums. During this time, Cruz created "Foráneo" for Centro de Cultura Digital Radio, curating weekly shows starring digital artists from around the world. "Foráneo" was discontinued when Cruz got engaged and moved back to her hometown of Dallas, Texas in 2015, where she resides today. Most recently seen performing for the Texas Vignette VIP Opening Reception, at the former Woman's Museum. She continues to explore movement, poetry, and materials with reoccurring themes of struggle/labor, identity, technology, social engagement and whatever else calls to her. You can find updates on her studio practice and motherhood @tejanastories.
Chuck & George
Chuck & George's larger-than-life milk carton with missing ads for the real-life artists invites viewers to step inside.
Brian K Scott and Brian K Jones joined artistic forces creating "Chuck & George" in 1990 at the University of North Texas in Denton. The duo eventually found their way to the Oak Cliff area of Dallas in 1996 where they continue to cohabitate and collaborate. "The Brians" and Chuck & George have been part of the Dallas/Fort Worth arts scene for decades including the 500X, Gray Matters, Mighty Fine Arts, The Conduit, The MAC, Ro2 Art, CentralTrak, and occasionally the Webb Gallery in Waxahachie. They have maintained and operated the Oak Cliff Visual SpeedBump Art Tour since 2000. The duo's small home is their most immersive over the top collaboration and has been described as a "rave for your eyeballs." Other than the annual SpeedBump Art Tour, it has been included in several organized bus tours and has hosted charitable events.
Their often auto-biographical work reveals interest through the exploited humor and beauty of loved ones and themselves. They shamelessly admit to using unflattering portraiture to explore their vision of reality, and of course admit to using mockery as a devise. The artistic exploration begins with the identification of a theme and the investigation of it with various forms of media, usually painting, printmaking, sculpture, animation and "constructions." With these tools, they approach subjects as something to be promoted, similar to an advertising campaign, or a public health service. Common threads throughout their career include storytelling, 80's pop songs, vintage television, kittens, comics, art history, childhood, love and violence.
Jer'Lisa Devezin
For this exhibition, she will be performing and erecting her sculptural work, titled "Kiss My Ass."
Devezin's work includes video and performance with precious, sharp, heavy, loud, delicate, and strong materials that reference the artist's own physical body, and stereotypes placed upon black women. For this installation she focuses on the ass, an overly fetishized icon, to address themes of power, labor, sexuality, and the gaze. Rather than fixating on the oppression of the black woman, she is interested in depicting a new black woman, one from a millennial black lesbian woman's gaze.
Jer'Lisa Devezin is a New Orleans native born in the Lower 9th ward and raised in New Orleans East. As a child she spent the majority of her time drawing, painting, and creating play-doh sculptures. While enrolled in the New Orleans Public School System, Jer'Lisa was introduced to art practice via the Talented and Visual Arts program. After graduating from McDonogh 35 Senior Highschool in 2007 she became a student at Dillard University where she completed her Bachelor of Arts degree in 2011. During her time at Dillard she was introduced to interdisciplinary practices which broadened her range of working between mediums. In 2013, Jer'Lisa became a resident artist with the Joan Mitchell Center's N.O.L.A Program which served as a pivotal point to her career as a professional practicing and working artist. Jer'Lisa recently received her M.F.A from Southern Methodist University in 2019. She currently lives and works in Dallas, TX.
Zackary Drucker
Included is the film, 'At Least You Know You Exist' previously exhibited at MOMA PS1 in 2012.
Made in collaboration with New York performer and drag queen Flawless Sabrina, the film At Least You Know You Exist explores the interaction between two artists of different ages. Set in Flawless Sabrina's ornate Manhattan apartment, where she has lived for more than four decades, the work depicts the two artists sharing the roles of filmmaker and subject, creating an intimacy that speaks specifically to their relationship as fellow transgender artists, and also more broadly to the queer community. According to Drucker, there are few older transgender individuals to look towards as role models. Her work with Flawless Sabrina investigates this legacy of queerness, which remains largely overlooked. "There is proof that we exist in a luminous dark corner of history as men know it," Drucker narrates, "a vortex and a realm where our trace is barely evident."
Zackary Drucker is an independent artist, cultural producer, and trans woman who breaks down the way we think about gender, sexuality, and seeing. She has performed and exhibited her work internationally in museums, galleries, and film festivals including the Whitney Biennial 2014, MoMA PS1, Hammer Museum, Art Gallery of Ontario, MCA San Diego, and SF MoMA, among others. Drucker is an Emmy-nominated Producer for the docu-series This Is Me, as well as a Producer on Golden Globe and Emmy-winning Transparent.
Hannes Egger
Hannes Egger's 'Performance Now' is an acoustic invitation for the viewer to perform.
In Performance Now, Egger invites the viewer to act a clearly defined performance based on Judith Butler's gender theory and its transfer of the performance concept into the cultural philosophy. According to Butler, gender identity – like identity in general – is not ontologically or biologically given but performative.
The artistic practice of Hannes Egger is linked to an essentially conceptual approach aimed at engaging and interacting with the public. His performances, installations and participatory projects invite people to adopt an unusual attitude or viewpoint, in order to reflect on our surrounding reality and the way we share the spaces we inhabit. His concept of art does not refer to an opus in the most traditional sense, but consists of creating situations of an open and in-progress platform, to see how these situations will develop once the audience participates. Egger often provides some coordinates or instructions to follow, and thus turns the action of the participant into the artwork itself.
Hannes Egger, born 1981 in Bolzano (IT), studied philosophy at the University of Vienna and at the "La Sapienza" in Rome. His works have been shown in solo exhibitions at Centro d'Arte, Cavalese (2019) Mewo Kunsthalle, Memmingen (2018), Galerie M, Berlin (2017), Empthy Cube, Lisbon (2016), Cubo Garutti / Museion, Bozen (2015), Festung Franzensfeste, Franzensfeste (2014-2018), Tiroler Landesmuseum Ferdinandeum, Innsbruck (2013), Export Kubus, Wien (2012), Stellwerk, Kassel (2009). He participated in group exhibitions at MART – Galleria Civica, Trento (2019), ZKM, Karlsruhe (2019), Museion, Bolzano (2017), Fondazione Barriera, Turin (2017), MMSU, Rijeka (2017), Nesxt, Turin (2016), Museo D'Emporda, Figueres (2015), Kunsthalle Krems, Krems (2015), Kunstverein Konstanz (2015), Dox, Prag (2014), Art Center, Krasnojarsk (2014), Quartair, Den Haag (2014), Winter Festival, Sarajevo (2014), Cesac Caraglio (2012), Trafacka, Prag (2012), Biennale di Venezia, Venedig (2011).
Fierce Pussy
fierce pussy's posters will be displayed and provided as take-aways. The group invites the public to print out, copy, share, distribute, wheat paste, and disseminate their posters, available at fiercepussy.org.
fierce pussy is a collective of queer women artists. Formed in New York City in 1991 through their immersion in AIDS activism during a decade of increasing political mobilization around gay rights, fierce pussy brought lesbian identity and visibility directly into the streets.
Low-tech and low budget, the collective responded to the urgency of those years, using readily available resources: old typewriters, found photographs, our own baby pictures, and the printing supplies and equipment accessible in our day jobs.
fierce pussy projects included wheat pasting posters on the street, renaming New York City streets after prominent lesbian heroines, re-designing the restroom at the LGBT community center, printing and distributing stickers and t-shirts, a greeting card campaign, a video PSA and more recently, various installations and exhibitions in galleries and museums.
Originally fierce pussy was composed of a fluid and often shifting cadre of dykes including Pam Brandt, Jean Carlomusto, Donna Evans, Alison Froling, and Suzanne Wright. Many other women came to an occasional meeting, and joined in to wheat paste, stencil and sticker. Four of the original core members—Nancy Brooks Brody, Joy Episalla, Zoe Leonard, and Carrie—continue to work together.
Kris Grey
Video documentation of 'Procession,' a performance for Jean Carroll (1910-1969), who transitioned in her adult life from Bearded Lady to Tatooed Lady at the Sideshow in Coney Island, NY.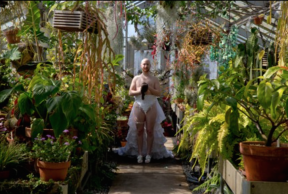 Kris Grey is a New York City based transgender artist who uses their body as raw material, often presenting themselves in states of extreme vulnerability as an invitation to experience transcendence or discover hidden queer histories. Grey's cultural work includes curatorial projects, performance, writing, and studio production in ceramics. Grey has been a resident artist at the Bronx Museum, Fire Island Artist Residency, ANTI Festival for Contemporary Art, International Centre for Training in the Performing Arts, and the Museum of Contemporary Art in Tucson, and is currently a Visiting Artist and Assistant Teaching Professor at Penn State University through 2021.
In addition to their individual practice, Grey collaborates with Maya Ciarrocchi under the moniker Gender/Power. Gender/Power has been awarded a Baryshnikov Art Center residency, a Lower Manhattan Cultural Council residency, a Franklin Furnace grant, and a MAP Fund Grant. Grey's writing titled, Trans*feminism: fragmenting and re-reading the history of art through a trans* perspective, was published by Manchester University Press in Otherwise: Imagining Queer Feminist Art Histories. Grey earned a Bachelor of Fine Art from the Maryland Institute College of Art in Ceramics and a Masters Degree in Fine Art from Ohio University in Ceramics. They perform, teach, and exhibit work internationally. www.KristinGrey.com
Sungjae Lee
Ephemera and images from 'Fake Muscles Series' Lee's 2017-2019 durational performance, based on desirable male body images in mass media.
In Sungjae Lee's performance practice, he builds his own notion of masculinity that hyper-focuses on Asians and their desire. Asian males have been regarded as effeminate and even sexless in Western society, making them invisible. As a queer Asian, Lee has ambivalence toward images of masculinity in mass media: the socially constructed ideal of a hairy muscular white man. While, in comparison, Asian men are desexualized in the West, Lee resists this ideal. He promotes visibility through performance, exposing his body, personal desires, and fetishes.
SUNGJAE LEE is a multidisciplinary artist based in Chicago and Seoul, Korea. He makes performance, installation, text, and video that probes the relationship between societal fringes and normativity in order to increase the visibility of marginalized groups. He has presented his works globally, including at the Seoul Museum of Art, Art Sonje Center, Hapjungjigu (Korea), Galleri CC, KHM Gallery (Sweden), Links Hall, Zhou B Art Center, New Wight Gallery, and Zimmerli Art Museum (USA). He has recently performed at the "RIPA 8″ at Darling Foundry (Montreal), "New Masculinities Festival" at the LGBT Center, and "ITINERANT Performance Art Festival" at Last Frontier (NYC). LEE received his M.F.A. and B.F.A. in Sculpture from Seoul National University. He has recently completed his masters degree in Performance Art at The School of the Art Institute of Chicago in May 2019. He is currently working in Chicago, IL as a curatorial assistant of the performance art gallery DFBRL8R directed by Joseph Ravens.
Le'Andra LeSeur
LeSeur will perform her newest work, 'There are other hues of blue' with an installation activating the gallery throughout the run of the exhibition.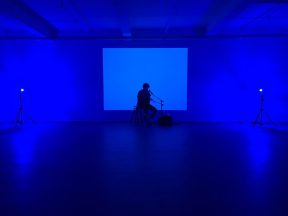 Le'Andra LeSeur (b. 1989 in Bronx, NY) is an interdisciplinary artist working and living in Jersey City, NJ. Her work explores black identity informed by the effects that regulated systems of oppression have on black women, specifically. Through visual media, installation, and performance, her hope is to reclaim and dismantle stereotypes surrounding black female identity through the reworking of conventional art forms and mundane objects – ultimately reshaping the context of spaces where the lives of the oppressed are silenced and celebrated in the same breath.
LeSeur was the recipient of the 2018 Time-Based Category Award and Juried Grand Prize at Artprize 10 in Grand Rapids, MI for her piece, "brown, carmine, and blue". She was the most recent recipient of the SCAD40 prize at SCAD's deFINE ART festival in 2019. Her recent lectures include SCAD, the RISD Museum of Art, and The Brooklyn Museum with Marilyn Minter in conjunction with The Tory Burch Foundation. Her recent residencies include NARS Foundation and Marble House Project. Outside of creating her own work, LeSeur has made notable contributions to the arts through her active participation in curating exhibitions and workshops for women of color that speak to the power in existing through expression in a world that shuns black women for these exact actions.
Leslie Martinez
Martinez' sculptural work, 'Burden of Shame,' is a folded white t-shirt cast in iron, memorializing transition.
Through generative experimentation across painting, printmaking, and sculptural processes, Leslie Martinez traces and expands the poetic nuances and perceptual shifts between queerness, hybridity, and placelessness through visual and material state change. Giving form to the space between the physical fact of the body or place and the boundlessness of the spirit allows the work to embody its own multivalent non-binary position as somewhere outside of or in between intentions. These methods and desires for the work emerged slowly over time looking closely at the poetic life cycles and survival strategies of camouflage, molt, radar, and echolocation in bats, moths, and scorpions as metaphors for navigating internal and external experiences of queerness through the subtle boundaries between abstraction and representation.
Leslie Martinez is a Dallas-based multidisciplinary artist born and raised between The Rio Grande Valley of the South Texas-Mexican border and Dallas, Texas. They hold an MFA from Yale School of Art in New Haven, Connecticut (2018) and a BFA from The Cooper Union for the Advancement of Science and Art in New York City (2008). Earlier this year, Leslie was an Artist-in-Residence at Museum of Contemporary Art Tucson where they began large scale works for forthcoming shows in 2020, a solo show in Dallas and their first museum group show at Phoenix Art Museum. Recent group shows include Material Intension at ex ovo, Dallas, TX, Independence at The MAC, Dallas, TX, Better Pleasures at Knockdown Center, Queens, NY, Heads/Tails at Next to Nothing Gallery in New York, NY, and Way Out Now at Diane Rosenstein Gallery in Los Angeles, CA.
Jonathan Molina-Garcia
Included in this exhibition is his project, 'The Hyperpassport/Superpasaporte,' a forged one-page passport.
Hyperpassport/Superpasaporte, is a one-page forgery of Jonathan Molina-Garcia's own Salvadoran passport. The one-of-a-kind replicas are scaled up in size and contain revised text to give Salvadorans greater political protections. He acquired the original passport in response to changing immigration policies that are threatening the temporary legal status Central American immigrants have had for the past two decades. Superpasaporte presents a speculative future of an othered, misaligned body – a future staked out by the "hacking" of the original's design and its anti-forgery patterns.
Jonathan Molina-Garcia (b. 1989) is a Salvadoran-American, photo-based media artist residing in Dallas, Texas.
His projects are committed to experiments in sharing. A citizen of the third world and an American DREAMER, his work looks at various topical and social themes in national and sexual identity. Primarily a collage artist, his mediums of interest also include time-based actions – performance art and video documentation; book-making and labor crafts.
He holds an MFA degree in Photography from the California Institute of the Arts (CalArts), and graduated with dual degrees in Photography and Art History from the University of North Texas.  Recent exhibitions include "In Sickness" at Texas Woman's University and "Transmission Reentry" at the University of Texas, Dallas.  He is the recipient of the 2018 Nasher Microgrant and has been awarded various other developmental grants from organizations including the artist-run Art Tooth gallery, the Jack Kent Cooke Foundation, and The Dallas Museum of Art.
He is currently a visiting lecturer in photography at Southern Methodist University.
Cori Olinghouse + Shona Masarin
The film 'Ghost line' directed by Cori Olinghouse and Shona Masarin is screened in a digital format.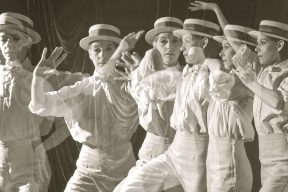 In Olinghouse's, Ghost line, a 16mm film collaboration with filmmaker Shona Masarin, she acts as a specter while channeling real and imagined histories. Premiering at Lincoln Center's Dance on Camera Festival in 2015, Olinghouse began her research investigating the presence of vernacular traditions within postmodern dance—notably Buster Keaton's stone-faced expression as a foreshadowing of postmodern deadpan. Playing Buster Keaton, as a queer mediumistic ghost, she attempts to blur the arbitrarily divided histories of high and low art. Using optical printing, hand painting, drawing, and frame-by-frame animation to summon the materiality and physicality of the clown, the surface of the film explodes through tactile interventions. These projects explore how representations of the self are always-incomplete and fictional. As part of this research, Olinghouse imagines alternative futures and ways of being in the world.
Cori Olinghouse an interdisciplinary artist working across the intersection of performance, archives, and visual storytelling. Her work is research-led and manifests itself in multiple formats such as performance, moving image, archival and curatorial projects; she serves as visiting faculty at the Center for Curatorial Studies at Bard College.
Olinghouse's research explores the embodied knowledge that arises in performance and improvisational systems towards the trajectory of social action. Moving between experiential research within improvisation communities, performance archives, and the theoretical frameworks of scholars Diana Taylor, Donna Haraway, and Laura Marks, among others, her projects look for porous ways of transposing embodied knowledge inter-disciplinarily. She is the founder and director of The Portal Project, a visual storytelling platform dedicated to the archiving and contextualizing performance practices and embodied histories in motion.
Olinghouse danced for the Trisha Brown Dance Company (2002-2006), and served as the Archive Director (2009-2018). Her performance work has been commissioned by Danspace Project, New York Live Arts, BRIC Arts Media, Lower Manhattan Cultural Council, Movement Research, and Brooklyn Museum of Art. Recently, she collaborated with video artist Charles Atlas on a moving image installation of Trisha Brown's archival materials for "Judson Dance Theater: The Work is Never Done," an exhibition curated by Thomas Lax and Ana Janevski for the Museum of Modern Art. Currently, she is collaborating with Autumn Knight and the Studio Museum in Harlem to to direct and produce a performance acquisition framework for Autumn Knight's "WALL."
Shona Masarin is a multi-disciplinary artist working primarily in analog film and photography.  She has received funding for her work from the Jerome Foundation, The ARTS Council of the Southern Finger Lakes in partnership with the New York State Council on the Arts, the Australia Council for the Arts, and the Ian Potter Cultural Trust. Her work has been presented at Danspace Project, Dance on Camera Film Festival at Lincoln Center, Crossroads Film Festival at SFMoMA, and the Knockdown Center, amongst others.
Martin Wannam Roca
'The Flag,' Roca's new "queer" Guatemalan flag is displayed.
Martin Wannam Roca's The Flag (2019) queers the symbols of the Guatemalan flag, speaking to the discontent of current homophobic, transphobic, classist, racist and machista sociopolitical systems.
Through a queer lens, Roca manipulates, inverts and unsettles subjects and objects historically considered precious to disrupt the meaning of religion, folklore and western beauty standards. Using Sculpture and performance, he challenges both his own cultural background and his gender identity, making his existence a political act. Disrupting his country's flag is Roca's way of taking a stand against queer lives lost in hate crimes, and demanding rights for his community.
Martin Wannam (b. 1992, Guatemala) uses photography, video, and sculpture to expose the role of religion in the repression of Latin American queer communities. Through the critical lenses of gender, sexuality, and race he challenges his own cultural background and deconstructs and disrupts the hegemony of religion as his own gesture of political resistance. Wannam currently resides in Albuquerque, NM, and is pursuing an MFA in Art Studio in the area of Photography. His work has been exhibited nationally and internationally, included in exhibitions in Guatemala, the USA, Rotterdam and Paris.
Legacy Russell
Legacy Russell's digitial video on the term she coined, 'Glitch Feminism,' and her scholarship surrounding this socio-techno construct of gender and sexuality.
"In a society that conditions the public to find discomfort or outright fear in the errors and malfunctions of our socio-cultural mechanics—illicitly and implicitly encouraging an ethos of "Don't rock the boat!"—a "glitch" becomes an apt metonym. Glitch Feminism, however, embraces the causality of "error", and turns the gloomy implication of glitch on its ear by acknowledging that an error in a social system that has already been disturbed by economic, racial, social, sexual, and cultural stratification and the imperialist wrecking-ball of globalization—processes that continue to enact violence on all bodies—may not, in fact, be an error at all, but rather a much-needed erratum. This glitch is a correction to the "machine", and, in turn, a positive departure." (L. Russell, The Society Pages, 2013)
Legacy Russell is a writer and curator. Born and raised in New York City, she is the Associate Curator of Exhibitions at The Studio Museum in Harlem.
Russell holds a dual-major B.A. with Honors from Macalester College in Art History & Studio Art and English & Creative Writing with a focus in Gender Studies, and an MRes in Art History with Distinction from Goldsmiths, University of London with a focus in Visual Culture. Her academic, curatorial, and creative work focuses on gender, performance, digital selfdom, internet idolatry, and new media ritual.
Russell's written work, interviews, and essays have been published internationally. Her first book, #GLITCHFEMINISM, is forthcoming from Verso Books.
Jesse Treviño
Treviño asks viewers to have their photo taken and fill out lavender ID cards stating they are not a security risk.
In Jesse Treviño's interactive print project,"Did Somebody Say McCarthy?", the artist references the Lavender Scare "the homosexual version of the Red Scare." Starting in 1950, gay men and lesbians were relentlessly pursued by Rep Joe McCarthy of the House Un-American Actvities Committee. McCarthy helped establish policies that resulted in outing and firing thousands of federal employees including military personnel. Those found "innocent" of homosexual activity, were given a paper that "exonerated" them.
Jesse Treviño was raised in Baytown, Texas by Mexican immigrant parents, and as a gay Mexican in the south, he considers his life inherently political. In 2018, he helped found the first queer arts organization in Houston: Qollective; as its mission has developed, it has come to reflect the political nature of queer lives in Texas. Treviño lives with his husband in Montrose, Texas.
ABOUT THE CURATOR
Liss LaFleur (b. 1987, Humble, TX) is an interdisciplinary artist who works with video, new media, and performance. Through the merging of digital and physical space, she explores queer identity, the future of feminism, and historical narratives. In 2018 she was named an Immersive Scholar by the Andrew W. Mellon Foundation. Her work has been exhibited internationally, including presentations at the TATE Modern, UK; Cannes Court Métrage, FR; PBS/ POV Digital; the Reykjavik Art Museum, IS; the Museum of Glass, US; Sister Gallery, AU; and the Czong Institute for Contemporary Art, South Korea. LaFleur received an MFA in Media Art from Emerson College, and is an Assistant Professor of New Media Art in the College of Visual Art & Design at the University of North Texas. She is currently represented by Galleri Urbane Marfa + Dallas. www.LissLaFleur.com