Samson Kambalu, Luke Murphy, Allison Schulnik, Barry Stone, and Penelope Umbrico
Curated by Charles Dee Mitchell
May 18 – July 14, 2019
Opening reception Saturday, May 18 from 6-9 PM
_
CURATOR'S TOUR / Wednesday, July 10, 7 PM
Join us for a tour and Q&A with Dallas Medianale 2019 curator, Charles Dee Mitchell. Arrive early at 7 PM for drinks and look around the galleries, tour begins promptly at 7:30 PM.
_
CLOSING / Saturday, July 13, 6-9 PM
The MAC is pleased to invite you to the closing reception of Dallas Medianale 2019! Stop by Saturday for drinks and conversation in celebration of this exhibition.
The MAC is free and open to the public with a suggested donation of $5.
A program of the Video Association of Dallas, Dallas Medianale 2019 is a new media biennial supported in part by an award from National Endowment for the Arts & Texas Commission on the Arts. The exhibition makes its third return to The MAC, featuring works by internationally recognized artists, Samson Kambalu, Luke Murphy, Allison Schulnik, Barry Stone, and Penelope Umbrico.
Curator Charles Dee Mitchell, focuses on video works for this year's exhibition, but also incorporates work that explores the breadth of approach included in time-based media, examining the history of the technology that has evolved to make these exhibitions possible. Single-channel screenings and video performance curated by Bart Weiss will be held at the Latino Cultural Center on Wednesday, July 17 and Thursday, July 18.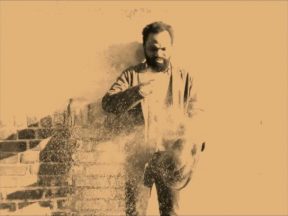 Samson Kambalu (Malawi/United Kingdom) works in a variety of media, including site-specific installation, video, performance, and literature. Through short films – never more than a minute long – he celebrates the earliest moments in film history, and examines the experience of African diaspora artists. Kambalu's work is autobiographical and approaches art as an arena for critical thought and sovereign activities. He draws upon influences from Situationism, Nyau cultural practices of his native Malawi, and the Protestant tradition of inquiry, criticism, and dissent. Kambalu hasbeen exhibited internationally including at the Venice Biennale 2015 and has won research fellowships from Yale University and the Smithsonian Institution.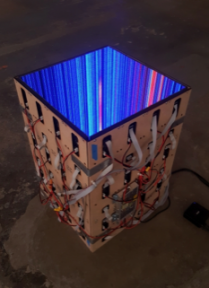 Luke Murphy (New York) pulls the rug from under Minimalist sculpture and Abstract Expressionist painting by reinventing them with dazzling LED light displays. Murphy thinks in terms of systems (logical, enterprise, Gnostic, religious, code, diagrams). His work references logical knots, randomness, and system glitches to reveal cracks in the seamlessness that technology aspires to, as well as the all too humanness of everything that goes into technology, in all its forms. He is represented by CANADA in New York and has exhibited worldwide in Germany, Switzerland, and Canada.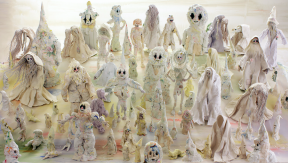 Allison Schulnik (California) uses painting, ceramics, and hand-made, traditional animation to choreograph her subjects in compositions that embody a spirit of the macabre, a Shakespearean comedy/tragedy of love, death, and farce. Although best known as a painter, Schulnik has been making animated films since she was 17, Dallas Medianale 2019 includes two sophisticated claymation videos (a long way from Gumby and Pokey). Her films have been included in internationally renowned festivals and museums including the Hammer Museum, LACMA, Annecy International Animated Film Festival and Animafest Zagreb. Her work is in the permanent collections of over a dozen institutions including LACMA and Museum des Beaux Arts, Montreal.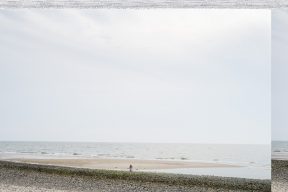 Barry Stone (Texas) manipulates the code of his digital landscape photographs to transform them into meditations on memory and the nature of beauty in a technologically mediated world. His work is a "world-making exercise" that creates connections among the natural and artificial, reality and fantasy, and truth and fiction. Stone has been exhibited nationally and internationally at Gaa Gallery Projects in Cologne Germany, The Lianzhou Photography Festival in China, with Klaus von Nichtssagend Gallery in New York City, and is included in the collection of the Museum of Fine Arts Houston. He lives in Austin, Texas.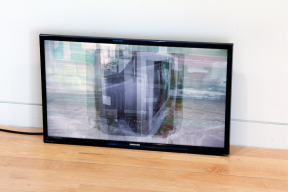 Penelope Umbrico (New York) addresses the persistence of the analog in a digital world, through work that is both humorous and melancholy. She utilizes traditional photographic techniques along with various methods of appropriation and reproduction to explore how images are made and used in contemporary culture. Umbrico's work has been included in exhibitions at MoMA PS1, NY; Museum of Modern Art, NY; MassMoCA, MA; and San Francisco Museum of Modern Art, CA. She is the recipient of a Smithsonian Artist Research Fellowship, and a Guggenheim Fellowship.
A program of The Video Association of Dallas, Dallas Medianale, is a biennial exhibition of experimental film, video art, new media, intermedia performance, and installations. In 2011 the Video Association of Dallas (VAD) with curators Charles Dee Mitchell and Carolyn Sortor launched an event called The Program with screenings of numerous single-channel video compilations. The Program returned in 2013 to Conduit Gallery. In 2015, under the new name, Dallas Medianale, VAD with curators Mitchell and Danielle Avram, expanded the event into a two-month biennial with screenings, intermedia performances, and an exhibition at The MAC on McKinney Avenue.
[The] Dallas Medianale presents something unique and welcomed to the area's cultural mix. New media, video, experimental film, and other time-based visual art are generally underrepresented in our painting-heavy gallery scene … and this kind of art has never been a major focus or strength of local museum programming. Over the years, The Dallas Video Festival worked to fill the void, launching at the DMA in the 1980s as a platform for exhibiting some of these then-emerging forms.
-Peter Simek, D Magazine, 2015.
The MAC is honored to host Dallas Medianale for the third time and proud of the important role the biennial plays in promoting time-based art in all its forms to the North Texas community.
Single-channel screenings and video performance curated by Bart Weiss will be held at the Latino Cultural Center on Wednesday, July 17 and Thursday, July 18.