THE MAC WELCOMES DB14 ARTISTS AND CURATOR FOR PANEL DISCUSSION
The MAC is pleased to welcome DB14 for a panel discussion Saturday, May 3, 2014 at 2:00pm, moderated by artist, writer, and educator, Stephen Lapthisophon.
Using examples from each artists oeuvre combined with ideas that relate to their work at large, Lapthisophon will lead an impromptu yet focused discussion with the artists.
Panel includes:
Darryl Lauster
Francisco Moreno
Michelle Rawlings
Ryder Richards
Lucia Simek
Cauleen Smith via transmission (currently on exhibit at The MAC*)
The MAC is pleased to be a partnering organization with the DB14. The Dallas Biennial (DB) is an artist run biennial and non-profit. "We look to the now ubiquitous format as a means to advocate art production and investigate exhibition and curation. Each biennial will be labeled DB, followed by the year of its launch. This year is DB14." Directed by artists Michael Mazurek and Jesse Morgan Barnett, The Dallas Biennial commenced in 2012 with a two-year long internet based event entitled, DB12: Volume 1– 4. The 2014 Dallas Biennial (DB14) takes place February through May in Dallas, Texas with exhibitions, performances and lectures staged throughout the metropolitan area. During the four-month event, work will be displayed in non-profit spaces, galleries, warehouses, artist-run spaces, corporate offices, a billboard and a magazine.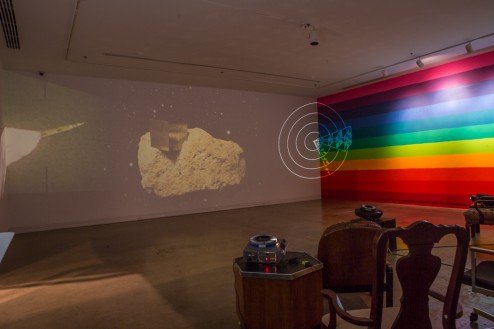 *Cauleen Smith: Space Station Rainbow Ihnfinity runs March 15 – May 3, 2014.
The MAC is open Wed – Sat 11 am – 9 pm
FREE AND OPEN TO THE PUBLIC