Please join The MAC Patrons + Artists Collective for a private studio tour with artist Eric Swenson.
Saturday, January 18, 2014
11:00 – 12:30PM
The Cedars, Dallas
Exclusively for MAC PAC members.*
Erick Swenson's installations create scenes of haunting perfection. Inspired by museum exhibits, set design, film special effects, and model making, Swenson crafts every minute detail of his tableaux, creating simulated, highly romantic scenes of that often exceed the ideals of nature. Cast in resin, Swenson's sculptures don't exude the expected revulsion of gore, but rather a beatific reverence.
A graduate of the University of North Texas and member of the GoodBad Art Collective, he was recently featured at the Nasher Sculpture Center and the Dallas Art Fair and has exhibited internationally in China, Germany, Australia, Switzerland, and elsewhere. Newsweek called Swenson one of the stars of the Whitney Biennial show in 2004. His work is in the permanent collections of the Dallas Museum of Art, Modern Art Museum of Ft. Worth, Whitney Museum of American Art, and The Saatchi Collection in London. He is represented locally by Talley Dunn Gallery and in New York City by James Cohan Gallery.
Please RSVP to macpac@the-mac.org by January 16, 2014.
Space is very limited for this event.
Exact location will only be given to confirmed guests.
*MAC PAC Membership includes all MAC membership levels at Amigo ($100) and above.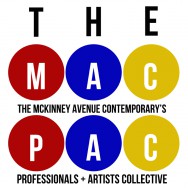 The MAC Patrons + Artists Collective is a group of active MAC enthusiasts with a passion for contemporary art who seek an opportunity to meet others who share similar interests and would like to enhance their knowledge of the current art scene.