Please join The MAC Patrons + Artists Collective at The Warehouse for an exclusive tour of the current exhibition "Room by Room: Monographic Presentations from the Faulconer and Rachofsky Collections"
Friday, March 7, 2014
4:00PM
Exclusively for MAC PAC members.*
Room by Room: Monographic Presentations from
the Faulconer and Rachofsky Collections
Room by Room dedicates each gallery in The Warehouse to a single artist in the Faulconer or Rachofsky Collection. In a number of galleries, multiple works from a single artist give an in-depth look at an artist's career, while other galleries present a single work by an artist. The exhibition includes work by Carroll Dunham, Bruce Nauman, Sterling Ruby, Charles Ray, Gerhard Richter, Janine Antoni, Marlene Dumas, William Kentridge, Jim Hodges, Felix Gonzalez-Torres, Louise Bourgeois, Sergej Jensen, Tom Friedman, Guido van der Werve, Mark Grotjahn, and Sigmar Polke.
The installation will take place at The Warehouse – a new art space developed by the Rachofsky's and the Faulconer's. The Warehouse is a newly renovated industrial building with 16 galleries and 18,000 square feet of exhibition space, all lit with natural light by skylights.
Please RSVP to macpac@the-mac.org by March 6th. Include Warehouse Tour in the subject line. 
*MAC PAC Membership includes all MAC membership levels at Amigo ($100) and above.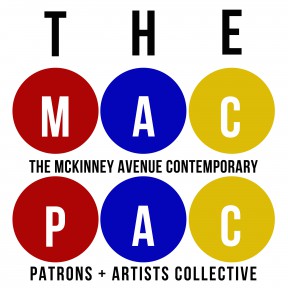 The MAC Patrons + Artists Collective is a group of active MAC enthusiasts with a passion for contemporary art who seek an opportunity to meet others who share similar interests and would like to enhance their knowledge of the current art scene.