Please join us at a preview and art talk for our upcoming exhibitions on Wednesday, March 6, 6-9 PM, remarks at 7 PM. The event is by invitation and open to all MAC members and SGCI conference attendees.
Sandow Birk and Elyse Pignolet: American Procession
Al Farrow: Divine Ammunition
Kris Pierce: Boiling a Ship in the Sea
The MAC is pleased to present three concurrent exhibitions, Sandow Birk and Elyse Pignolet: American Procession, Al Farrow: Divine Ammunition, and Kris Pierce: Boiling a Ship in the Sea. The exhibitions run March 6 through May 4. The opening reception for all concurrent exhibitions will be held Saturday, March 9, 6-9 PM.

Sandow Birk and Elyse Pignolet's enormous print project American Procession, inspired by "Der Furstenzug (The Procession of Princes)", in Dresden, Germany, plays off of the concept of Heroism by depicting an imaginary parade of figures from American history. Beginning with the oldest in the back of the line and proceeding forward through time, the personalities are those who made remarkable contributions to their times – for better or for worse. Rather than solely depicting the standard well-known figures such as Abraham Lincoln, Martin Luther King, and John F. Kennedy, the majority of figures in this procession are more thought-provoking and polemic. The artists hope to offer a way to rethink how we arrived at the current state.
The project consists of three enormous woodblock prints, two measuring three-feet by seventeen-feet, and a third central panel four-feet by six-feet. Each long panel depicts opposing sides of the political spectrum, spanning US history from the country's founding to the present day, moving toward confrontation and the central panel, which depicts a Triumphal Arch in ruins, amid the scattered debris of Americana – a police car, the Liberty Torch, bits of the Hollywood sign, an electric chair, a noose, a rural home, an old tire, while a helicopter and blimp hang over a smoke-spewing power plant.
American Procession woodblocks were produced by Sandow Birk and Elyse Pignolet in Los Angeles and printed at Mullowney Printing studio in San Francisco.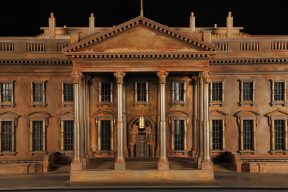 Al Farrow: Divine Ammunition comments on the contemporary political climate, religion, war, history, culture and faith. An accomplished sculptor in a wide variety of media, Al Farrow generally adopts the language of a particular historical period for his work, updating the imagery or material to make cogent observations about contemporary society. In recent years he has used munitions—bullets, guns, hand grenades, bombs—to make three-dimensional projects that resemble Christian reliquaries, Islamic mosques and Jewish synagogues, and most recently, The White House.
Farrow's ornately rendered sculptures examine the relationships between religion and violence, peace and brutality, the sacred and the unholy. Crafted with guns and gun parts, bullets, lead shot, shell casings, steel, bone, glass and cluster bomb, Farrow's work connects military conflict and its industrial sources. Farrow's, The White House, portrays the corruption of democratic ideals by abuse of power
Farrow's traveling exhibition, debuted at The Forum Gallery, New York in 2015, and traveled to the Crocker Art Museum in Sacramento, CA, as well as other institutions throughout the country.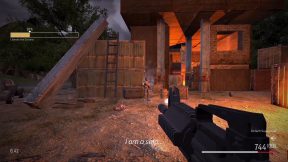 Kris Pierce: Boiling a Ship in the Sea is interested in individual relationships with digital space and how the lines between characters in both the physical and the digital world are often blurred. As individuals invest more social capital in their digital-self, the dynamic between virtual and physical space becomes a more complicated relationship to navigate.
In Boiling a Ship in the Sea, conflicting identities are navigated by a character whose sense of place feels alienated by the complicated dynamics of existing within a digital world. It is within the "video game" context that ideas relating to violence, war, social dynamics, family, and loneliness struggle to resolve. The initial context of the video exists within the "FPS" or "First-Person Shooter" genre of games, this format bridges the real-world experience to the game environment. This device defines a new characteristic of 21st-century human experience, where virtual experiences parlay their baggage onto our physical self and shape how we navigate the future.
ABOUT THE ARTISTS
Husband and wife, Sandow Birk and Elyse Pignolet, are both practicing artists, who have collaborated on various projects, most notably in a series titled The 99 Names of God.
Sandow Birk was born in Detroit, Michigan and raised on the beaches of Orange County, California. He is a graduate of the Otis Art Institute of Parsons School of Design, Los Angeles, and resides in Southern California. Subjects of his work include gang violence, graffiti culture, prisons, surfing, skateboarding, Dante's Divine Comedy, the Iraq war, and the Qur'an. Birk creates monumental series developed over the course of many years, often working across media to support his ideas through a multi-disciplinary approach—painting, drawing, printmaking, writing, film, video, and sculpture.
Birk has exhibited in dozens of museum and galleries, and his work is in many public and museum collections including: SFMOMA and the Fine Art Museums of San Francisco; the Los Angeles County Museum of Art and The Getty Center in Los Angeles; the New York Historical Society and the Metropolitan Museum of Art in New York; Harvard University Art Museum in Cambridge, Massachusetts; Biblioteca Nazionale Centrale di Roma, Italy; and Stadtisches Kunstmuseum in Reutlingen, Germany. Birk has received an NEA grant, a Guggenheim Fellowship, a Fulbright Fellowship, a Getty Fellowship, and a City of Los Angeles Fellowship. Most recently, Birk's work has been the subject of several solo exhibition including at The Andy Warhol Museum (2011); McKinney Avenue Contemporary and the San Jose Museum of Art (2012); Arizona State University Library and Millersville University Winter Center Gallery (2013); and The University of Puget Sound Kittridge Gallery (2014). In 2015, W.W. Norton will publish American Qur'an, a book of Birk's complete series of paintings on this subject, which will coincide with solo exhibitions at Catharine Clark Gallery and the Orange County Museum of Art.
Born in Oakland, CA, Elyse Pignolet is an American with Filipino heritage, living and working in Los Angeles. She attended California State University, San Francisco, studying Fine Arts. In 2001 she lived in Madrid and Barcelona, Spain, studying arts and Spanish language. She completed her BFA degree in ceramics at CSU Long Beach in 2007. Her studies included an intensive ceramics tour through Mainland China, and she also attended the International Ceramics Biennale in Korea. She was awarded a CSU Long Beach Travel Scholarship for Art, and traveled to Lisbon, Portugal to study traditional tile murals. She has traveled extensively in Europe, Asia, Australia, Africa, and South America.
Pignolet works primarily in ceramics and her work has been inspired by and dealt with various themes including social issues and topics from contemporary news articles. Often projects reflect the urban environment from where she lives and works. Her sculptures attempt to place the permanence and traditions of ceramics with the fleeting and transitory nature of the contemporary world.
Her works have been featured in several contemporary arts publications including the LA Weekly, Juxtapoz Magazine, and the Los Angeles Times.
Born in Brooklyn, New York, Al Farrow has lived in the San Francisco Bay Area for more than thirty years. Most recently, Farrow's travelling exhibition debuted at The Forum Gallery, New York in 2015, and traveled to the Crocker Art Museum in Sacramento, CA. The exhibition exhibits at 21c Museum Hotel (Louisville, KY) through September 2016, continues to the Bellevue Arts Museum (Bellevue, WA) and the Art Museum at University of Wyoming (Laramie, WY) in 2017, and the San Francisco Museum of Craft and Design in 2019. A monograph, published by Crocker Art Museum, accompanies the exhibition.
In 2008, Farrow's work was the subject of a solo exhibition at the de Young Museum, San Francisco Fine Arts Museum, which was curated by Timothy Anglin Burgard, and accompanied by a monograph also published by the museum. Farrow's work is included in the public collections of the San Francisco Museum of Modern Art (San Francisco, CA); the San Jose Museum of Art (San Jose, CA); 21c Museum Hotel (Louisville, KY); the de Young Museum, Fine Arts Museums of San Francisco (San Francisco, CA); and the collection belonging to the government of the State of Israel. Farrow has had solo exhibitions at AEROPLASTICS contemporary (Brussels, Belgium) and Forum Gallery (New York, New York). Farrow has exhibited with Catharine Clark since 1994 and is also represented by galleries in Washington D.C. and Brussels, Belgium.
Kris Pierce is an artist working in Dallas, Texas. His work explores notions of power, value, and states of consciousness in the context of our modern digital world. He has exhibited internationally in museums, galleries, and public spaces, including recent solo and group exhibitions at the Hiroshima Art Center, Japan; CICA Museum, Gyeonggi-do, South Korea; Gallerie Se Konst, Falun, Sweden; Réunion, Zurich, Switzerland; Circuit 12 Contemporary, Dallas; Blue Star Contemporary, San Antonio; the Dallas Museum of Art; and RL Window, Ryan/Lee, New York City.