THE MAC PAC Anniversary Party
Wednesday, February 27 | 6-9p
Come join The McKinney Avenue Contemporary Professionals + Artists Collective (The MAC PAC) in celebrating our one year anniversary on Wednesday, February 27, 2013 from 6:00-9:00pm at The MAC. Live it up at The MAC PAC Anniversary Party featuring the 2012 Dallas Observer Music Award Winner for Best Electronic Act, Cutter and relish in complimentary drinks and the announcement of the 2013 MAC PAC exhibiting artist! Admission is $10 at the door. RSVP and purchase tickets early through Eventbrite.
As a thank you for their annual support, The MAC PAC members may enjoy FREE admission.
The MAC launched the new membership group, The MAC PAC at last year's FREE ART PARTY! on March 22, 2012. The MAC PAC is a group of active MAC enthusiasts who have a passion for contemporary art. Members receive exclusive benefits and the opportunity to become more involved through participating in programs, exhibition and membership committees.
The MAC PAC has had a busy first year. We enjoyed happy hours at our favorite Uptown bars, a studio visit with dynamic art duo Francis Bagley and Tom Orr, private exhibition previews and a festive ornament hanging party for the annual MAC fundraising event, Blue Yule. Exhibitions Committee chairs Lara and Stephen Harrison dove head first into planning the first MAC PAC sponsored exhibition to be shown in the New Works Space in September, 2013. The Harrisons are pleased to announce that the Exhibitions Committee and The MAC Board of Directors have come to an agreement on three finalists for the MAC PAC sponsored exhibition.
2013 MAC PAC Exhibiting Artist Finalists are:
Tony Orrico
Submitted by Exhibitions Committee Member, Courtney Brown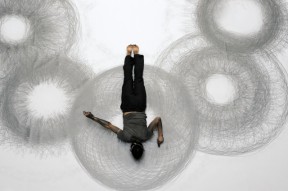 Tony Orrico (b. 1979) grew up in Chicago, IL and studied painting as a child. He attended Illinois State University where he took his first dance class. He earned his MFA in choreography at University of Iowa in 2003 and moved to New York City to continue his pursuits.
Orrico has been presented and exhibited in the US, France, Germany, Mexico, the Netherlands and Spain. His visual work is in collection at The National Academy of Sciences (Washington DC) and Museo Universitario de Arte Contemporáneo (MUAC) in Mexico City as well as prominent private collections. He has recently been presented at New Museum (NYC) and Poptech 2011: The World Rebalancing.
As a former member of Trisha Brown Dance Company and Shen Wei Dance Arts, Orrico has graced such stages as the Sydney Opera House, Teatro La Fenice, New York State Theater, and Théâtre du Palais-Royal. He was also one of a select group of artists to re-perform the work of Marina Abramovic during her retrospective at MoMA.
Orrico currently bases his life and studio practice between Chicago, IL and Stevens Point, WI.
David Poppie
Submitted by Exhibitions Committee Chairs, Lara and Stephen Harrison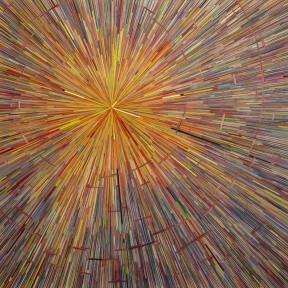 David Poppie (b. 1969) Kenosha, WI attended the University of Wisconsin, receiving a BA in 1994 and MFA in printmaking in 1998. While pursuing his degrees his interest included the art of collage and assemblage, which became the subject of his Master's thesis exhibition. Poppie moved to NYC and spent almost a decade pursuit of his artistic interests which coincided with establishing an online music store that specialized in vintage and antique vinyl.
Poppie's interest in music intersects closely with his art collage and assemblage art process, as he often incorporates different methods of capturing or transcribing "SoundBites" (the title of his 2009 exhibition at Pavel Zoubok Gallery) with colored pencils, matchbooks, or other mixed media. He has also created larger scale sculptural works with video and cassette tapes, which was the subject of his 2008 (Re) Mixed Media Show at the University of Wisconsin and was reviewed in the February 2010 Sculpture Magazine.
Poppie has exhibited extensively, with exhibitions in private and public institutions in New York, London, California, New Mexico, and Wisconsin. He currently lives in Easthampton, MA, where he is currently preparing for his third solo show at Pavel Zoubok Gallery, New York, New York in the Fall.
Allison Schulnik
Submitted by Exhibitions Committee Member, Laura Green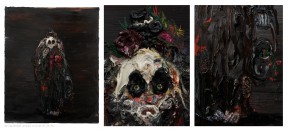 Allison Schulnik choreographs her subjects in compositions that embody a spirit of the macabre, a Shakespearian comedy/tragedy of love, death and farce. The subjects often stare back at the audience and study them as they are in turn studied, aware of their ancestors from the Grand Theme works of the past, the genre paintings that inform them. Although a haunting sense of foreboding, discomfort and unease is palpable, a sense of understanding, compassion and hopefulness for her cast of characters is still evident in the heavy impasto paintings. Her sculptural use of oil paint references her clay-animation background, as a motion-like sensibility affords her paintings unparalleled depth and energy.
Born in 1978 (San Diego, CA), Schulnik earned her BFA in Experimental Animation from the California Institute of the Arts, Valencia (CA). She has had solo exhibitions at the Oklahoma City Museum of Art (OK), Nerman Museum of Contemporary Art (KS), Rokeby Gallery (London), Unosunove Arte Contemporanea (Rome), Division Gallery (Montreal), and ZieherSmith Gallery (NY), in addition to her inclusion in film festivals around the world. Her work has also been shown at the Garage Center for Contemporary Culture (Moscow), Hammer Museum (CA), Los Angeles County Museum of Art (CA), Santa Barbara Museum of Art (CA), Contemporary Arts Museum (LA), and Hangar-7 (Salzburg), among many others. Allison Schulnik is in the public collections of the Los Angeles County Museum of Art (CA), Nerman Museum of Contemporary Art (KS), Museum of Contemporary Art, San Diego (CA), Santa Barbara Art Museum (CA), Museé de Beaux Arts (Montreal), Farnsworth Art Museum (ME), Laguna Art Museum (CA), Monteal Contemporary Art Museum (Canada), and Montreal Museum of Fine Arts (Canada). The artist lives and works in Los Angeles, CA.
The MAC would like to thank The MAC PAC steering, exhibitions, programming and membership committee members:
Steering Committee Chair: Jordan Roth
Membership and Programming Committee Chair: Douglas Martin
Exhibitions Committee Chairs: Lara and Stephen Harrison
Committee Members: Courtney Brown, Laura Green, Annie Potasznik, Michael Perez, Kelli Houlihan, Gail Sachson, Elaine Martzen, Haley Kattner Allen, Judith Seay, Jose Reyes
The MAC would like to thank these individuals, businesses and organizations for their support in this first year of The MAC PAC:
Manny Alcala and Natalie Stiles of Quin Mathews Films
Haley Kattner Allen
Arts + Culture Magazine
Bridge Bistro
Brooklyn Brewery
Fadi's Mediterranean Grill
The Alcove
Francis Bagley and Tom Orr
Heritage Auction Gallery and Brandon Kennedy and Frank Hettig
Cutter
Gail and Richard Sachson
Dallas Children's Advocacy Center and Alexis O'Connell
Billy Hassell