The MAC Proudly Presents:
Memory Beast 
by Morgan Grasham
Welcome to the Enclave 
by Sarah Lasley
Venus and Mars: Climates in Dialogue
by Laura J. Lawson
Where: The MAC
1503 S Ervay St, Dallas, TX 75215
Wednesday – Saturday, 12:00 – 5:00 pm
When: September 10th – October 8th, 2022
Opening Reception: September 10th, 6-9pm
The MAC is pleased to present three new solo exhibitions including work by Morgan Grasham, Sarah Lasley and Laura J. Lawson. The three exhibitions mark the beginning of The MAC's 2022—2023 artistic season, curated by a jury of prominent international and regional art figures. Memory Beast, Welcome to the Enclave and Venus and Mars: Climates in Dialogue are on view from September 10 through October 8, 2022, with an opening reception Saturday, September 10 from 6 to 9 pm.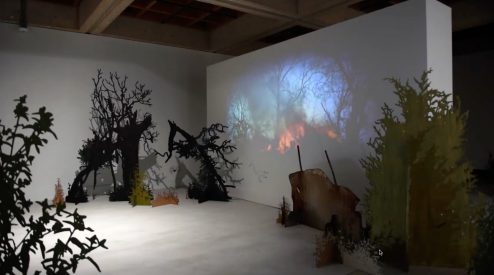 Above image: Morgan Grasham, Memory Beast, 2021. Image courtesy of the artist.
In conversation for the first time at The MAC, Grasham, Lasley and Lawson provoke a novel reconsideration of the natural, augmented and astral environments that surround us today.
Memory Beast promotes an interspecies dialogue wherein viewers can envision a sustainable and symbiotic future. Through video and installation, Morgan Grasham creates an intimacy between man and beast, dissolving the dichotomy presupposed therein.
In Venus and Mars: Climates in Dialogue, Laura J. Lawson also facilitates dialogue, not between our Earthly companions, but instead, our astral neighbors. Lawson takes on the role of a whimsical-cartographer, transposing aerial images of Venus and Mars into striking representations of celestial grandeur.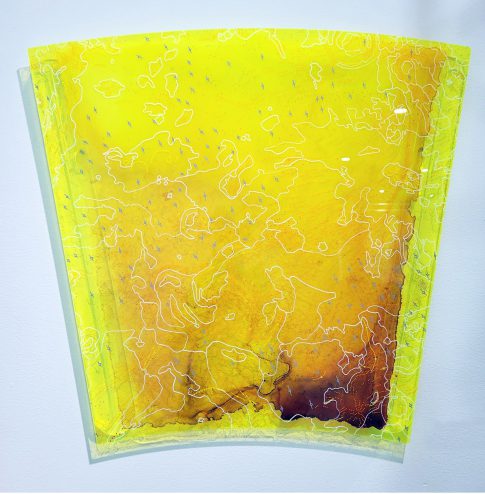 Above Image: Laura Lawson, Venus 2779 Aino, 2021. Image courtesy of the artist.
Welcome to the Enclave explores the uncanny a little closer to home. In collaboration with Brenna Palughi, Sarah Lasley looks at the relationship between augmented and virtual reality, Anglo-American domesticity and ecological disaster. Welcome to the Enclave dissects a glitchy vision of a suburban meta-verse to confront histories of Indigenous subjugation in American culture and the conflicted intersections of race and gender. Across three exhibitions, the artists stage poignant interventions into the viewer's sense of place against the slippery landscape of contemporary life.
---
ABOUT THE ARTISTS
Morgan Grasham is an interdisciplinary artist whose work is informed by years of experience practicing taxidermy across Texas. Grasham is an Adjunct Professor of Sculpture at University of North Texas, and Lecturer at the School of Art, Technology and Communication at the University of Texas at Dallas. She was Artist-in-residence at Cobb Mountain Art & Ecology Project, and won 2nd Place at the Texas Juried Exhibition at Artspace 111 in Dallas. Her collaborative work with ceramicist Eric Grasham won them Work of Distinction from the San Angelo Museum of Fine Arts, and the subsequent exhibition Clay + Things at Site 131 earned a position as Top 5 exhibitions state-wide by Glasstire. Grasham spoke on animals in art at Experts Talk on the Carter: The Art of the Wild at the Amon Carter Museum for American Art.
Sarah Lasley is a video artist from Louisville, Kentucky and an Assistant Professor of Film at Cal Poly Humboldt. Her work exposes complicity in spectatorship by complicating the linear subject/object relationship between the viewer and the viewed. She has screened internationally at film festivals and universities, notably the Cairo Video Festival in Egypt and National Chiao Tung University in Taiwan. Her museum and gallery exhibitions include the Katonah Museum of Art in upstate New York, Leslie Hellar Workspace in New York City, and LAXART in Los Angeles. Lasley worked as an animator for Martha Stewart Omnimedia and title animator on Todd Haynes's Academy Award Nominated film Carol, Panda Bear, and MGMT music videos. Her theatre credits as projection designer include the Baryshnikov Arts Center, Harlem Stage, and Ars Nova in New York City. She was recipient of the Toby Devan Lewis Grant from Yale School of Art, where she taught as a Lecturer for over a decade. Recently she was awarded the grand prize for Blue Star Contemporary's Projection/Projektion video program in collaboration with Darmstädter Sezession in Germany, where she will be an artist in residence in summer 2023. She holds an MFA from Yale School of Art and a BFA from University of Louisville and was a resident at the Skowhegan School of Painting and Sculpture in 2004.
Laura J. Lawson is a Dallas-based artist who uses maps and environmental data to explore and subvert the tradition of landscape art. She is a graduate of Austin College (BA) and The University of Memphis (MFA). She was awarded a two-month residency at the Centre d'Art Marnay Art Center in Marnay-sur-Seine, France, and was selected for the first cohort of studio artists at the Cedars Union art incubator in Dallas. Her TEDx talk at Austin College discussed the importance of better standards for time and space to do creative work. Lawson teaches art at Dallas College and Tarrant County College.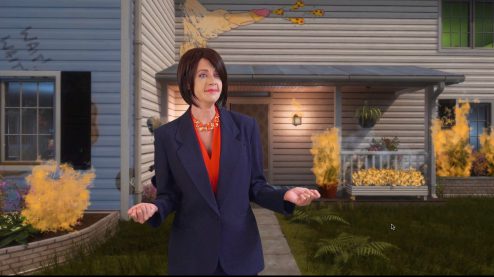 Above Image: Sarah Lasley, Screenshot from 'Welcome to the Enclave', 2022. Image courtesy of the artist.
---
ABOUT THE JURORS
Leslie Moody Castro is an independent curator and writer whose practice is based on itinerancy and collaboration. She has produced, organized, and collaborated on projects in Mexico and the United States for more than a decade, and her repertoire of critical writing is also reflective of her commitment to place. She is committed to creating moments of artistic exchange and dialogue and as such is a co-founder of Unlisted Projects, an artist residency program in Austin, Texas. In 2017, she was selected as Curator and Artistic Director of the sixth edition of the Texas Biennial, and was recently the first invited curator in residence at the Galveston Artist Residency. Moody Castro earned a Master's degree at The University of Texas at Austin in Museum Education with a portfolio supplement in Museum Studies in 2010, and a Bachelor's degree in Art History at DePaul University in Chicago in 2004, and has been awarded two grants from the National Endowment of the Arts for her curatorial projects (2016, 2017). In addition to her firm belief that the visual arts creates moments of empathy, Moody Castro also believes that Mariachis make everything better.
Frank Hettig is Heritage Auction's Vice President of Modern & Contemporary Art. In addition to more than 12 years of auction experience, Frank has a well-regarded reputation as a curator, critic and connoisseur of contemporary art. Trained as an art historian at the University of Amsterdam, Frank advised on exhibitions and museum catalogues and has lectured at a number of colleges and universities both in the US and overseas.  At both the Goethe-Institute Los Angeles (German Cultural Institute) and the Consulate General of the Netherlands, he conceptualized and coordinated a variety of international cultural events including lectures and symposia, guest artist exhibitions and performing arts programs.  As an independent art critic, he has written reviews and features in English, German and Dutch for publications such as Archis, Art/Text, Artforum, Bauwelt, Forum International, das Kunstwerk, Kunstforum and Metropolis, among others.  Frank has handled auctions of many private collections as well as corporate art collections including a Fortune 100 Company, the Estate of Dr. Edmund Pillsbury, among others.  He is also overseeing Heritage's growth in Latin-American Art and Chinese Art.
Danielle Georgiou is a multi-hyphenate artist and educator who works in dance, theatre, and performance and video art. Her stage and video work deal with puzzles found in femininity—vulnerability, deformity, and beauty. Her work has shown nationally across Texas, New York (Horton Gallery), California (Rogue Fringe Festival), Florida (Bosch Film Festival), Oregon (Portland's Experimental Film Festival), and internationally in Germany (2nd Berlin Becher Triennial) and Scotland (Edinburg Arts Festival). In 2013, her dance theatre work, Pizzicato Porno, was selected for exhibition at the 2013 Texas Biennial. In 2014, Women and Their Work (Austin, TX) chose her for a solo show. The work in that show explored the effect of social media on beauty standards.
She received her Bachelor's Degree in International Business and French from the University of Texas in Arlington in 2006, and her Master's Degree in Political Science from UT Arlington in 2008. She began her studies at the University of Texas at Dallas in 2008 and was a graduate student resident at CentralTrak—UT Dallas' Artist Residency Program. She served as the Director of the UT Arlington Dance Ensemble and taught dance classes at the UT Arlington from 2017-2015. She served as the Interim Associate Dean of Arts and Communications at Eastfield College from 2017-2018. She is currently the Program Coordinator for Dance and Chair of The Arts Collective and Eastfield College. She received her Ph.D. in Humanities-Aesthetic Studies in 2018 from the University of Texas at Dallas. Her dissertation focused on redefining contemporary dance theatre and exploring the interdisciplinary nature of dance and avant-garde, experimental theatre practices.
---
The MAC
1503 S Ervay St
Dallas, TX 75215
Open to the public Wed-Sun 12-5 pm
Free entry with a suggested donation of $5
The MAC is located in the single story baby blue building at the corner of Ervay and Sullivan next door to Ro2 Art and across the street from Dallas Heritage Village. Parking behind the gallery off Sullivan St. Street parking available throughout the neighborhood.
---
THE MAC MISSION
Founded in 1994, The MAC is a 501(c)(3) nonprofit arts organization that stands as an advocate for creative freedom and visual art in all its forms. It supports emerging-to-established local, regional and international artists by offering the opportunity for experimentation and by facilitating a forum for critical dialogue, while promoting inclusivity and diversity as core values.
---
GETTING TO THE CEDARS
The Cedars is located just blocks from the heart of Downtown Dallas south of I-30. By car the Cedars is connected to the metroplex from major arteries: I-30, US-75, I-45, and I-35. The neighborhood is easily accessible by DART light rail and bus. DART Cedars Station is just over a quarter mile away.