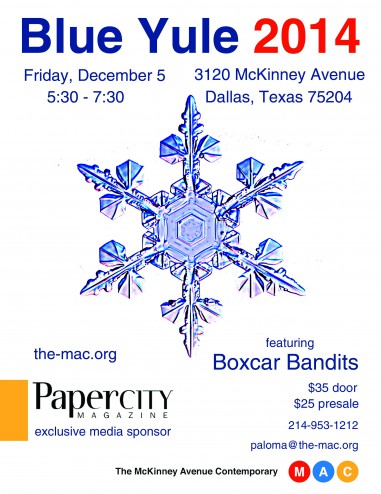 The MAC Annual BLUE YULE
will have NO ICE this year!
But it is also our FIRST "FRUE YULE"!
???
It's on FRIDAY, December 5th!!

Blue Yule
19th Annual Holiday Party and Ornament Sale and Silent Art Auction
Friday, December 5, 2014
5:30 – 7:30 PM
Have a ball at Blue Yule! Enjoy food, drinks, music and fellowship with the holiday season's coolest celebration. Shop for fabulous ornaments handcrafted by local and nationally recognized artists, bid on silent auction items, and dance your britches off to the festive tunes of Denton's finest bluegrass band, Boxcar Bandits. All proceeds benefit 2015 Artistic Programming.
Nineteen years ago, the late, great arts patron Nancy Hanley had the brilliant idea to cajole artists to create ornaments from the wacky to the sublime and sell them at a big party to benefit the MAC, naming it after the color of the year-old arts space on McKinney Avenue. It was hard to say no. "Two decades later, the Blue Yule is still the best way to kick-off the holiday season, with amazing ornaments, dancing, witty conversation, food and drinks, including our legendary Blue Mystery Punch" noted Susan Matusewicz, MAC board president and co-chair of the event with Sally Francis. There is also a silent auction, with all proceeds supporting one of the city's most important art and theater venues.
THANK YOU TO ALL OUR UNDERWRITERS ANS SPONSORS:
Underwriters:
Trammell S. Crow
Lara and Stephen Harrison
Briggs Freeman Sotheby's International Realty
Inette and Joshua Brown
Kaleta  A. Doolin Foundation
David Gibson
Kevin and Cheryl Vogel
Phillip E. Collins
Deborah and William Colton
Veletta Forsythe-Lill
Mary Jane and Truett James
Candace Rubin
Exclusive Media Sponsor:
PaperCity Magazine
Sponsors:
Boxcar Bandits
Missy and Bob Townsend
Madeline Jobst
Greenberg Smoked Turkeys
David Nelson
Deborah Humphrey
Russell Tether Fine Arts
Earl Weed
By the Grace of Tea
Scardello
Grimaldi's
The Original Cupcakery
Margaux's Bridge Bistro
Café Express
i Fratelli's
WilliamGrant&Sons
Susan Matusewicz
Preferred Parking Valet
Imogene Berman and Paul Louis
The Rustic
Undermain Theater
Bombay Sapphire
Wrath
Dr. Cops Pop Up Shop
FairMarketDFW Estate Sales
Dallas Museum of Art
The Impeccable Pig
Cafe Express
Charles M. Hess
Barter
Vintage Keyper
Kendall Ferguson
Renew Medspa
Herbert Singleton
The T Shop
Valley House Gallery and Sculpture Garden
Debra Stevens Framing
ORNAMENTS:
A wide variety of uniquely handcrafted ornaments donated by artists will be for sale. Ranging in size and price, there is a piece to fit everyone's tree and budget.
Ornament donors will receive a complimentary Artist Level membership to The MAC.
Drop off dates for the ornaments are:
DEC 1 & 2 (Monday and Tuesday) 11am – 6pm
DEC 3 & 4 (Wednesday and Thursday) 11am – 9pm
For artists with questions regarding the donation of ornaments, contact The MAC at 214.953.1212 or gro.cam-eht@amolap
ENTERTAINMENT:
Denton's finest bluegrass band, Boxcar Bandits, will provide music for the evening.
www.boxcarbandits.com
SILENT AUCTION:
The highly anticipated silent auction features items from local performance venues, museums, businesses, restaurants and more. If you are interested in contributing to the silent auction please contact Alyssa Chi development manager, alyssa@the-mac.org.
ADMISSION:
Members: $25 advance purchase or at the door
Non-members: $25 in advance or $35 at the door
Advance tickets may be purchased at the-mac.org, at The MAC, and at Ro2 Art Downtown.
UNDERWRITING:
Underwriting assistance is critical to the success of Blue Yule. Sponsorships are currently available. For more information contact gro.cam-eht@assyla or visit the Blue Yule underwriting page on The MAC's website.
VOLUNTEERS:
Those interested in volunteering please contact Paloma Hinahon at
gro.cam-eht@amolap
Exclusive Media Sponsor

Cocktails provided by