MAC@20 Part II
Featuring The MAC Exhibiting Artists from 2005 – 2013.
Christopher Cascio: Current Obsessions
An opening reception will be held Saturday, November 8, 2014 from 5:30  to 7:30 pm at The McKinney Avenue Contemporary, located at 3120 McKinney Avenue, in the Uptown District of Dallas.
Exhibitions will be on view through December 20, 2014.
MAC@20 Part II
This year, The McKinney Avenue Contemporary (The MAC) will celebrate 20 years in operation at 3120 McKinney Avenue. The MAC opened as an alternative exhibition space in 1994 as the first venue in North Texas where contemporary art in all disciplines could be explored under one roof. With exhibitions by more than 300 regional, national, and international contemporary artists, The MAC is home to some of the most inspiring, challenging and riveting art in Dallas and North Texas.
In celebration of The MAC's 20th Anniversary Season we will hold a two-part group exhibition featuring artists who have held solo exhibitions or been part of a curated group exhibition. In May 2014, MAC@20 Part I included exhibiting artists from 1994 through 2004. In November 2014, MAC@20 Part II will include exhibiting artists from 2005 through 2013.
For the past twenty years, The MAC has maintained its important mission to stand as a Dallas advocate for creative freedom, offering the opportunity for experimentation and presentation of art in all disciplines. The MAC is honored to be a platform for the many artists in our region and to have introduced so many national and international artists to our thriving artist community.
MAC@20 Part II Exhibiting artists include:
Kaleta Doolin (2012), David H. Gibson (2005), Trenton Doyle Hancock (2008), Dan Rizzie (2011), and  Ludwig Schwarz (2012).
and
Paul Abbott, Helen Altman, Adela Andea, Frances Bagley, Vera Barnett, Betsy Belcher, Sandow Birk, Michael Bise, Christopher Blay, Barbara Brault, Megan Adams Brooks, Lloyd Brown, Isabelle Chapman, Du Chau, Chong Chu, Brian Cobble, Michael Roque Collins, Connie Connally, Tammy Cromer-Campbell, Charles DeBus, Dawn Dedeaux, Kristy Deetz, James Drake, David A. Dreyer, Melissa Turner Drumm, Celia Eberle, Lisa Ehrich, David Everett, Philip John Evett, Vincent Falsetta, Simeen Farhat, Bryan Florentin, Lilian Garcia-Roig, Ginger Geyer, David Gibson, Ann Glazer, Cheryl Goldsleger, Reni Gower, Susan Kae Grant, Kana Harada, John Hartley, Billy Hassell, Terry Hays, Etty Horowitz, Sedrick Huckaby, Bethany Johnson, Marilyn Jolly, Lance Jones, Brent Kollock, Bill Komodore, Ray Larrow, Chris Lattanzio, Matthew Lopas, Richard Maxwell, David McCullough, Douglas McWithey, Mark Messersmith, Susan Mollet, Delilah Montoya, Michelle Murillo, Pamela Nelson, Gail Norfleet, Michael O'Keefe, Keri Oldham, Michael Osbaldeston, Nancy Palmeri, Ricardo Paniagua, Katie Pell, Derrick Piens, Julon Pinkston, Robin Ragin, Leisa Rich, Frank Rodick, Rusty Scruby, Ansen Seale, Carol Selter, Edward Setina, Charlotte Smith, Shawn Smith, Hadar Sobol, Frederick Spaulding, Mike Tichansky, George Tobolowsky, Andrew Douglas Underwood, Philip Van Keuren, David Van Ness, Sally Warren, Jack White, Angilee Wilkerson, Roger Winter, Nicholas Wood, and others
MAC@20 Exhibition and Season Sponsors
Inette and Joshua Brown
Riddell Rare Maps and Fine Prints
Komali – Contemporary Mexican Cuisine
Jordan Gray – Popmolar Creative
Christopher Cascio: Current Obsessions
The MAC PAC Sponsored Exhibition
Featuring Houston based artist Chris Cascio, Current Obsessions will be The MAC's second annual MAC PAC Sponsored Exhibition. The MAC PAC, Patrons + Artists Collective, is a group of active MAC enthusiasts with a passion for contemporary art who seek an opportunity to meet others who share similar interests and would like to enhance their knowledge of the current art scene. The MAC PAC members are involved in special projects at The MAC such as the Exhibitions and MACtivities Committees.
Cascio was chosen as the recipient of this year's one-person exhibition in the New Works Space out of 15 artists nominated by The MAC PAC Exhibition Committee members. The selection process included a panel discussion reviewing each of the artist's work by The MAC's Board of Directors and a vote held by The MAC PAC at large.
Cascio's exhibition will explore themes of collecting, hoarding, addiction, ritual practices, and commercial branding through an installation of paintings, collages and transfer drawings based on his most current obsession. Exploiting his compulsive tendencies, Cascio will completely transform the gallery into a space that blurs the line between passion and pathology by aestheticizing a hoard of items surrounding an idea or issue. Meticulously saved remnants from Cascio's process of cutting and organizing images into categorical compositions will surround the artwork along with other items acquired during the works' creation including source material, art supplies, production cast-offs, beer bottles, and other objects relating to the installation.
The MAC PAC Sponsored Exhibition Sponsor
Charles Dee Mitchell
The MAC PAC
Karen Erxleben Weiner
Thomas Williams
Robert Boyd
Danielle Georgiou
Laura Green
Kathy Robinson-Hays
Jordan Roth
Carol and Frank Cascio
Camilla Cowan
Ann Margolin
Richard Bailey
Paloma Hinahon
The Matusewicz Family
Andrea Starnes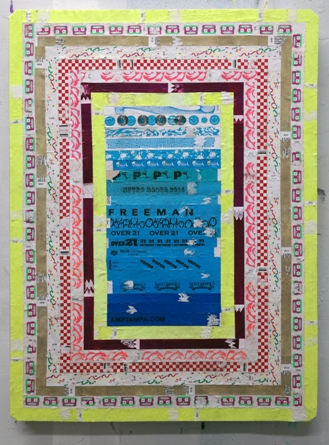 Christopher Cascio, "Wristband Flood Quilt" , 2014
wristbands and varnish on canvas over panel, 23″x31″
photo by Christopher Cascio