CURRENT OBSESSIONS an Exhibtion by Christopher Cascio
The 2nd Annual MAC PAC Sponsored Exhibition features Houston mixed media artist Cascio on themes of hoarding, ritual and compulsion.
OPENING RECEPTION: Saturday, November 8, 5:30 – 7:30pm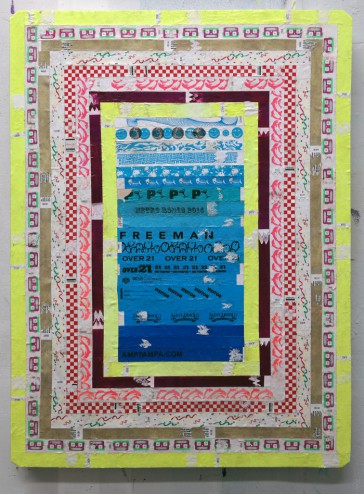 Cascio was chosen from a group of 15 artists, nominated by The MAC PAC Exhibition Committee, and voted by The MAC Board of Directors then The MAC Professionals + Artists Collective (The MAC PAC).The The MAC PAC Sponsored Exhibition grants its members the opportunity to be active in programming exhibitions in the New Works Space gallery.
Christopher Cascio is a painter based in Houston, TX who works with mixed media and explores themes of obsession, compulsion and ritual. He is no longer emerging and not quite at mid-career, and is a graduate of HSPVA ('95), the San Francisco Art Institute (BFA, '99) and the University of Houston (MFA, '13). Cascio has shown extensively at Cardoza Fine Arts, Front Gallery, Blaffer Museum, Diverseworks and Lawndale Art Center in Houston, New Image Art and CalArts in Los Angeles, UTSA Satellite Gallery in San Antonio and The Luggage Store, Partisan Gallery, Artists Television Access and ArtPad in San Francisco. In 2014 he was included in the Contemporary Art Museum's 65th anniversary show Outside the Lines. Cascio is represented by Devin Borden Gallery.
A Kickstarter campaign was launched by The McKinney Avenue Contemporary in preparation for the exhibit and successfully raised $1,500!
In support of Cascio's exhibition Current Obsessions, the Kickstarter campaign supported:
artist travel expenses
artist's accommodations
exhibition documentation
installation expense

Supporters who donated $50 or more received a ticket to the private VIP Reception to meet Christopher Cascio on Saturday, November 15.

Our goal was $1,500.
Read more about the campaign HERE:
https://www.kickstarter.com/projects/orrico/current-obsessions-an-exhibtion-by-christopher-cas
The MAC PAC Sponsored Exhibition Sponsors
Charles Dee Mitchell
The MAC PAC
Karen Erxleben Weiner
Thomas Williams
Robert Boyd
Danielle Georgiou
Laura Green
Kathy Robinson-Hays
Jordan Roth
Richard Bailey
Andrea Backer
Paloma Hinahon
Carol and Frank Cascio
The Matusewicz Family
Camilla Cowan
Kristin Nickell
Ann Margolin