Masami Teraoka: Inversion of the Sacred
Cauleen Smith: Space Station Rainbow Ihnfinity
    An Exhibition of the 2014 Dallas Biennial(DB14)
Val Curry: Universe
An opening reception will be held Saturday, March 15, 2014 from 5:30pm to 7:30pm at The McKinney Avenue Contemporary, located at 3120 McKinney Avenue, in the Uptown District of Dallas. Masami Teraoka and Val Curry will be present at the opening reception.
Art Talk with Masami Teraoka
An Art Talk and discussion with exhibiting artist Masami Teraoka will take place on Thursday, March 20th at 6:30pm.
Exhibitions will be on view through May 3, 2014.
Large Gallery 
Masami Teraoka
Inversion of the Sacred
Cloisters Last Supper – Triptych Series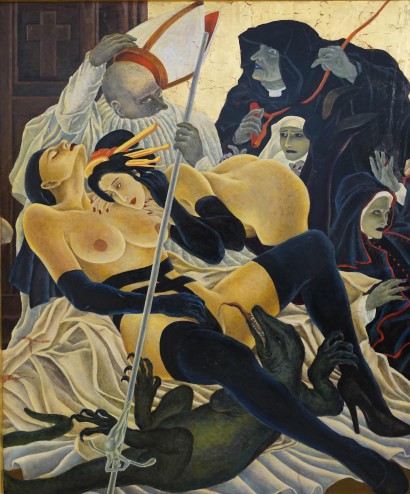 The MAC is honored to exhibit nationally acclaimed artist Masami Teraoka: Inversion of the Sacred a series of paintings from the Cloisters Last Supper – Triptych Series. This most recent body of work includes seven large scale paintings in the style of Renaissance alter pieces. The paintings on exhibition at The MAC, each created circa 2007 through 2014, depict contemporary narratives of moral turmoil using art historical references and iconography.
My Cloisters Last Supper – Triptych Series addresses Catholic clerical sex abuse. Underlying this theme, I see an authoritative institution trying to dictate individuals' sexual relationships, gender and morality. To bring out such compelling cultural issues and put them on the Last Supper table may be an appropriate place to start a dialogue – to investigate the anatomy of these abuses.
The Vatican's history and culture as an institution with worldwide influence has inspired me, especially since fundamental human equality issues have always been at the top of my priority list. How does the Catholic Church's teaching of celibacy fit into Michelangelo's Sistine Chapel painting? How could the nudity depicted in those masterpieces support anti-gay and anti-same sex marriage stances? Putting these puzzles together I see how brilliantly the Vatican has evaded clerical sex abuse issues for centuries and how all these pieces of historical information can finally be knit together  when a medieval era church meets a new generation of iPhone and iPad culture.
I think that technically, perhaps, the most engaging way to articulate such tough cultural challenges may be in a highly evolved vocabulary such as that of Renaissance painting or Ukiyo-e woodblock prints. Each of my narrative paintings create a fantastical aesthetic world where human folly and dilemma are expressed in such a way that the beauty and ugliness of human activity and psyche thrive in a complex visual poetic statement.
–Masami Teraoka, February 13, 2014
Masami Teraoka was born in 1936 in Onomichi, Hiroshima-ken, Japan. He graduated in 1959 with a B.A. in aesthetics from Kwansei Gakuin University, and continued his education to receive a B.F.A. and an M.F.A. from Otis Art Institute in Los Angeles in 1968. Integrating reality with fantasy, humor with commentary, and history with the present became his working challenge. His early paintings are often focused on the clash of his two cultures- East and West. Series such as McDonald's Hamburgers Invading Japan and 31 Flavors Invading Japan characterize some themes in his work. In the 1980's, Teraoka's watercolors became large scale in an effort to depict the subject of AIDS. Since the late 1990's, he has been producing large-scale narrative work addressing social and political issues, especially the sexual abuse of children by priests. His recent large-scale paintings are inspired by Renaissance painting but continue the narrative quality and visual conventions of Japanese woodblock prints.
Teraoka has been the subject of more than 70 solo exhibitions, many of which have traveled extensively, including those organized by the Whitney Museum of American Art in 1980, The Contemporary Museum, Honolulu in 1988, and the Yale University Art Gallery in 1998. In 1996 he was featured in a solo exhibition at the Arthur M. Sackler Gallery, The Smithsonian Institution and in 1997 at the Asian Art Museum, San Francisco. His work can also be seen in more than 50 public collections worldwide, including the Fine Arts Museums of San Francisco; The Smithsonian Institution in Washington D.C., the Metropolitan Museum of Art in New York, the Tate Modern in London, the Queensland Art Gallery in Australia, and the Gallery of Modern Art in Scotland. Teraoka is represented by Catharine Clark Gallery in San Francisco, Samuel Freeman Gallery in Los Angeles and Art Amalgamated Gallery in New York.
Masami Teraoka: Inversion of the Sacred, in the Large Gallery, contains artwork with provocative and sexually explicit content inappropriate for audiences under the age of 17. Parental discretion is strongly advised.
Special Event with Artist Masami Teraoka: A Tweak Week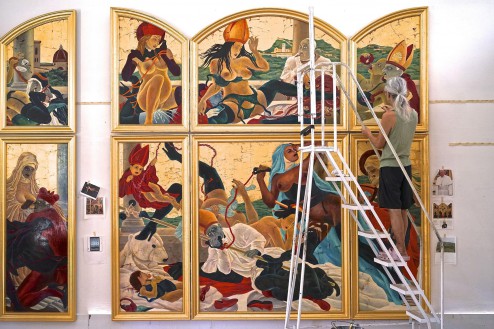 The MAC is pleased to welcome Masami Teraoka to the gallery for A Tweak Week, a program directed toward educating audiences in the practices involved in creating large scale paintings. A Tweak Week offers patrons the opportunity to witness Teraoka in the process of manipulating and editing his paintings as would be done in the artists' own studio. Audiences are encouraged to speak openly and interact with the artist while he is painting. Teraoka will be working in the gallery March 19-22ndfrom 11am – 5pm daily.
Art Talk: Thursday, March 20 at 6:30pm.
Exhibition Sponsor
Claude C. Albritton III
The MAC extends a special thank you for the help and support from Catharine Clark Gallery and Anna Bunting. 
Square Gallery
Cauleen Smith
Space Station Rainbow Ihnfinity
An exhibition of the 2014 Dallas Biennial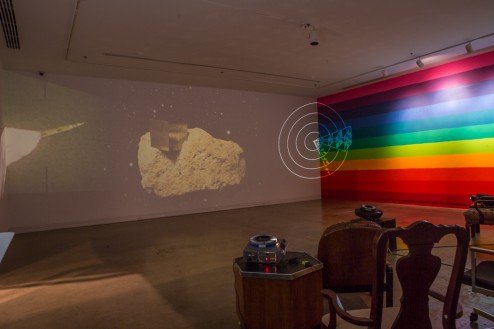 An extension of Cauleen Smith's research during her residency at threewalls in Chicago, Space Station Rainbow Ihnfinity is a roving research capsule, designed to extract lost cultural histories, myths and realities through careful speculations and inquiry. Incubating questions and revisions devised by autodidactic figures, the installation delves into the individuals' ability to extend the mind's eye beyond the present, into the future-past of potential liberatory ideals.
Cauleen Smith is an interdisciplinary filmmaker whose work reflects upon the everyday possibilities of the black imagination. Smith's films, objects and installations have been featured in group exhibitions at the Studio Museum of Harlem, Houston Contemporary Art Museum, the Blanton Museum of Art, Austin, Sand Diego Museum of Contemporary Art, Yerba Buena Center for Art, and the New Museum, New York. Smith has held solo shows at The Kitchen, MCA Chicago, Threewalls, Chicago, and Women & Their Work in Austin. Smith is the recipient of several grants and awards including the Rockefeller Media Arts Award, Chicago 3Arts Grant, and the Foundation for Contemporary Arts. Smith earned an MFA from the University of California, Los Angeles. She currently lives in Chicago while teaching at California Institute of the Arts and the Vermont College of Fine Art low-residency MFA program.
The MAC is pleased to be a partnering organization with the DB14. The Dallas Biennial (DB) is an artist run biennial and non-profit. "We look to the now ubiquitous format as a means to advocate art production and investigate exhibition and curation. Each biennial will be labeled DB, followed by the year of its launch. This year is DB14." Directed by artists Michael Mazurek and Jesse Morgan Barnett, The Dallas Biennial commenced in 2012 with a two-year long internet based event entitled, DB12: Volume 1– 4. The 2014 Dallas Biennial (DB14) takes place February through May in Dallas, Texas with exhibitions, performances and lectures staged throughout the metropolitan area. During the four-month event, work will be displayed in non-profit spaces, galleries, warehouses, artist-run spaces, corporate offices, a billboard and a magazine.
New Works Space
Val Curry
Universe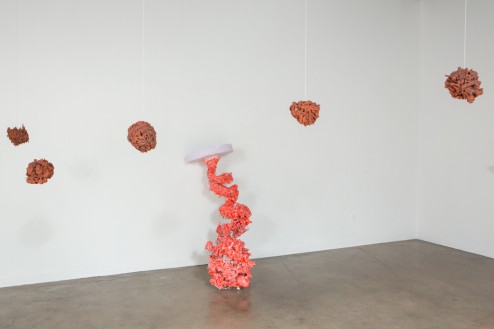 The MAC is pleased to announce Universe, a solo exhibition by multidisciplinary artist Val Curry. The sculptures of Universe are expressed through the iconic image of the spiral, both metaphoric and reflected in the natural world. Constructed of accumulated waste from Curry's environment, the spiral sculptures are in essence playful yet stern in their message. Curry's mission is to bring practical idealism to his art practice and to share that message with others through unique work and teaching experiences. Universe investigates how consumerism, which is inextricably linked with waste, can be factored into a fanciful notion of organic nature and the cosmos.
From the beginning of recorded history, the thinkers of our world have philosophized about the origins of humanity and man's impact upon the world we inhabit. Artifacts and relics to scientific theories and writings are passed down for generations with the hope of preserving critical progress. Universe follows the tradition of these important figures, offering a cautionary window into our current consumer driven practices.
Val Curry grew up amidst the cornfields of rural Illinois in an Intentional Community. This upbringing surrounded by strong social cohesion, teamwork and an alternative lifestyle greatly impacted the artist's core values and art-making practice.
Curry is currently pursuing an MFA at University of Texas, Dallas in the Arts and Technology Program.  In 2012, Curry was an artist in residence at the UT Dallas CentralTrak Artist Residency Program. He received his BFA in Sculpture from Texas A&M University-Commerce in 2011.  Curry studied under Plush Gallery director, Randall Garrett, while attending RichlandCommunity Collegebefore entering TAMU-Commerce.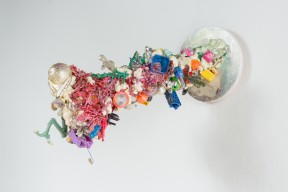 Val Curry has exhibited locally and nationally since 2004. Exhibitions include performance art pieces with Plush Gallery in Williamsburg, New York and Dallas as well as various group exhibitions in Chicago, Houston and the Dallas area. Most recently, he exhibited One Day a collaborative exhibition with Robert David Reedy at Ro2 Art Downtown in collaboration with MAP 2013. The works from One Day continued to be featured in the exhibition Objective Strategies, at Dallas' El Centro College and are included in the MAP 2013 Catalogue, published this year. Val Curry is represented in Dallas by Ro2 Art.
Exhibition Sponsors
John and Anne Mullen
Whitten Technical LTD