THE MAC PRESENTS AN ART TALK WITH VAL CURRY, MODERATED BY JEFF WHITTINGTON 
Wednesday, April 2, 6:00 pm
The MAC is honored to welcome artist Val Curry for an art talk and discussion of the current exhibition Universe, moderated by KERA's Executive Producer and Host, Jeff Whittington.
The MAC is pleased to announce Universe, a solo exhibition by multidisciplinary artist Val Curry. The sculptures of Universe are expressed through the iconic image of the spiral, both metaphoric and reflected in the natural world. Constructed of accumulated waste from Curry's environment, the spiral sculptures are in essence playful yet stern in their message. Curry's mission is to bring practical idealism to his art practice and to share that message with others through unique work and teaching experiences. Universe investigates how consumerism, which is inextricably linked with waste, can be factored into a fanciful notion of organic nature and the cosmos.
From the beginning of recorded history, the thinkers of our world have philosophized about the origins of humanity and man's impact upon the world we inhabit. Artifacts and relics to scientific theories and writings are passed down for generations with the hope of preserving critical progress. Universe follows the tradition of these important figures, offering a cautionary window into our current consumer driven practices.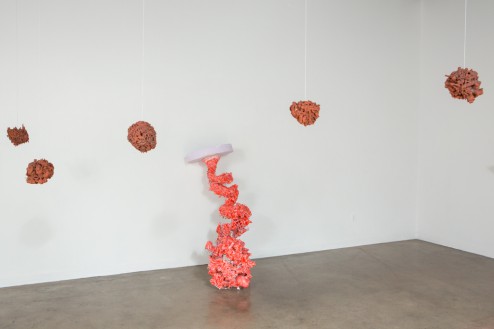 Val Curry grew up amidst the cornfields of rural Illinois in an Intentional Community. This upbringing surrounded by strong social cohesion, teamwork and an alternative lifestyle greatly impacted the artist's core values and art-making practice.
Curry is currently pursuing an MFA at University of Texas, Dallas in the Arts and Technology Program. In 2012, Curry was an artist in residence at the UT Dallas CentralTrak Artist Residency Program. He received his BFA in Sculpture from Texas A&M University-Commerce in 2011. Curry studied under Plush Gallery director, Randall Garrett, while attending Richland Community College before entering TAMU-Commerce.
Val Curry has exhibited locally and nationally since 2004. Exhibitions include performance art pieces with Plush Gallery in Williamsburg, New York and Dallas as well as various group exhibitions in Chicago, Houston and the Dallas area. Most recently, he exhibited One Day a collaborative exhibition with Robert David Reedy at Ro2 Art Downtown in collaboration with MAP 2013. The works from One Day continued to be featured in the exhibition Objective Strategies, at Dallas' El Centro College and are included in the MAP 2013 Catalogue, published this year. Val Curry is represented in Dallas by Ro2 Art.
Jeff Whittington is executive producer for special projects and KERA's Think series and host of Anything You Ever Wanted to Know on KERA 90.1. He also created and launched the KXT Live Sessions series for KXT 91.7. Formerly producer of The Glenn Mitchell Show, Whittington began his career at KERA as an events planner and fundraising producer before joining the content production team in 2004.
Jeff's work at KERA has been honored with five consecutive Dallas Bar Association Philbin Awards for Excellence in Legal Reporting, three Best of Dallas Awards from the Dallas Observer, a Best of Big D Award from D Magazine, a Public Radio News Directors Award, a Texas AP Broadcaster Award, and a regional Edward R. Murrow Award. Since 2009, Jeff has moderated the State of the Arts conversation series at the Dallas Museum of Art. He has served on the Press Club of Dallas Board of Directors and is a 2009 alumnus of the FBI Dallas Citizens Academy.
A graduate of the University of North Texas, Jeff is also a rock musician and songwriter and spent several years after college performing and touring with his band Adam's Farm. Jeff appeared in the 2006 world premiere of Waiting for a Train: The Life and Songs of Jimmie Rodgers at the Undermain Theatre in Dallas and in July, 2013, released Whittington – a solo album produced by Grammy Award-winner Stuart Sikes.
Exhibition Sponsor
John and Anne Mullen
Whitten Technical LTD
Exhibition runs March 15 – May 3, 2014
The MAC is open Wed – Sat 11am – 9 pm
FREE AND OPEN TO THE PUBLIC