Art Talk with Olaniyi R. Akindiya AKIRASH
Friday June 12, 2015
5:30 pm
In conjunction with our current exhibition, Olaniyi R. Akindiya AKIRASH: ADITTU (Puzzle), on view in the Square Gallery, the artist will present an art talk on Friday June 12, at 5:30 – 7:00 pm.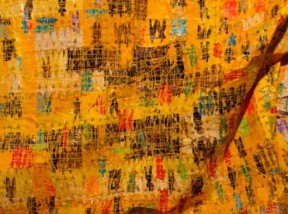 Olaniyi Rasheed Akindiya AKIRASH
ADITTU / Puzzle
Multidisciplinary, Austin – based artist, Olaniyi R. Akindiya, (aka Akirash) was born in Lagos, Nigeria in 1973. In 1991, he received a degree in bio-chemistry from the University of Agriculture in Abeokuta. In 1995 he received a degree in fine and applied arts at the Institute of Textile Technology, Oregun, and Lagos State, Nigeria. Akirash moved to the Republic of Benin and later Ghana. A traveler, he has taken part in seminars, biennales, residency programs, workshops, solo and group exhibitions around the world.
The theme of this exhibition is "ADITTU meaning PUZZLE." It's taken from the Yoruba language that is spoken in southwest Nigeria, Africa. The ADITTU/PUZZLE refers both to the purpose of the clothes we wear to cover our secret body parts and the secrets of the creation of traditional cloths – how they are prepared from spinning cotton into threads and then put together to form these unique clothes. Akirash's work contemplates the wisdom of the spider as it weaves a fascinating web, or a bird constructing its nest. These creatures served as inspiration in the invention of the cloth we wear with its spinning, twisting, and weaving of cotton. Dyeing some into colors extracted from leaves, roots, bark, sands, stones, animal dung and clay.
Akirash says:
"In the exhibition ADITTU / Puzzle, I am looking at the people, techniques, experiences, and dynamics of using looms to design, create, and weave traditional cloths, including ASO OKE, the cloth from Southwest Nigeria by the people of Yoruba land, and also the world celebrated royal KENTE cloth of the Asante kingdom in Kumasi, Ghana. To honor the many countries in the world that have their own traditional cloth locally made from spinning cotton. Using colored paper cut into small human figures intricately joined and interwoven he combines forms together as one complete piece, like a cloth. Sometimes he joins the cloth and materials to form letters, words and symbols. Other times folding, twisting and joining strips to form a tapestry."
An important extension of Akirash's work is ARTWITHAKIRASH. The NGO he founded in the Republic of Benin that contributes to the development of communities of women and children by encouraging art in public space. Most of these projects incorporate drama and performance sending a message to the citizens: helping them to educate by learning to make money and to share their experience and knowledge with other people on the streets. His community involvement can be seen in many countries in Africa, Europe, USA, Asia, Caribbean's, Australia; winning awards, grants and fellowships.
Olaniyi R. Akindiya AKIRASH: ADITTU (Puzzle)
Exhibition runs through June 27, 2015.
The MAC is open Wed – Sat 11 am – 9 pm
FREE AND OPEN TO THE PUBLIC