CEDARS OPEN STUDIOS
Sean P. Miller: Gazing Reflecting Unknown
Joshua von Ammon: Deep Purple
Saturday, November 19, 10-
14th Annual Cedars Open Studios Tour
The MAC
1601 South Ervay Street
214.953.1212
Entrance at 1600 Gano St. and street parking on Gano St.
CEDARS OPEN STUDIOS
Sean P. Miller: Gazing Reflecting Unknown
Joshua von Ammon: Deep Purple
The MAC is pleased to bring together artists living and working in the Cedars neighborhood for two solo exhibitions, as part of the 14th annual Cedars Open Studios tour. Sean P. Miller's Gazing Reflecting Unknown is a new body of work which combines video and sculpture. Deep Purple includes new paintings by Joshua von Ammon.
Gazing Reflecting Unknown and Deep Purple open during Cedars Open Studios on Saturday, November 19, 10-6. Both exhibitions will be on view November 21 through December 10, open to the public Saturdays 12-3 or gladly by appointment (closed Saturday, November 26 for Thanksgiving holiday). A closing reception will be held on Saturday, December 10, 6-9.
Sean P. Miller's new works highlight the value of contemplative experiences through optically engaging mixed reality forms. Gazing Reflecting Unknown presents elemental ephemera in the form of video-sculptural composites. In these works light emits through a moiré pattern, suggesting a physics-defying depth. Through this specter, the artist invites viewers to look into a surreal fire of virtual coals, gaze upon a physically dynamic abstraction representing a turbulent water feature, and speculate about dimensions beyond the scope of our understanding.
Miller is an artist working with video, sculpture, installation, live media, performance, and sound art. His work is a synthesis of media, which explores embodiment, dynamical systems, and synesthetic relationships. He is currently teaching New Media and Creative Computation at Southern Methodist University and the University of North Texas, where he received his Masters of Fine Arts in 2014.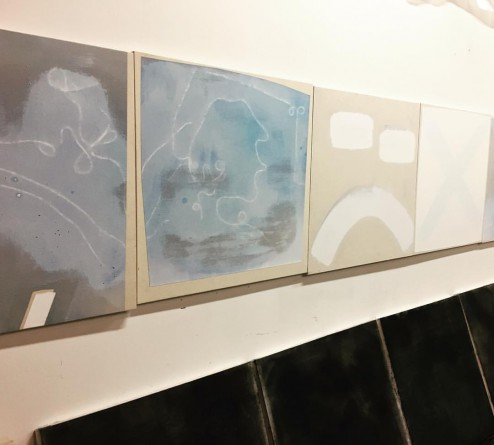 Joshua von Ammon's Deep Purple applies minimal approaches to painting through use of natural hand-dyeing canvas, and Mad Libs-style text appropriation. Meditating somewhere between the cacophony of Twitter culture, and the serenity of Zen's escapism, von Ammon's work amalgamates popularized phrases stripped of context to be used as arbitrarily as any abstract gesture.
Von Ammon is a painter currently residing in Dallas, Texas. After receiving his BFA from the School of the Art Institute of Chicago in 2009, he lived and worked in Prague, Czech Republic for 4 years, participating in the Meetfactory Artist's residency. Since moving to Dallas in 2012, he has co-founded S.C.A.B. (socialized contemporary artist's bureau), the UNION studio + gallery, Conversations in the Void (online artist interview program), and PARIAH (umbrella moniker for arts production and fine art curation within the artists studio+domicile). Von Ammon is foremost a painter and embraces a DIY approach to enriching and building an artists communion outside the restrictions of the commercial environment. Joshua works as a painter, writer, curator, educator, interview host, and art media producer.
A large and diverse group of creatives call the historic Cedars home, which is the reason why many in the City refer to it as the artists' district. Cedars Open Studios is an annual event, attracting thousands of visitors to this creative, evolving neighborhood. This invites visitors to explore the neighborhood studios, learn about art, shop, and enjoy local bars and restaurants.
Follow the Cedars Open Studios on Facebook, Twitter, Instagram, and www.cedarsopenstudios.com for a map of the event, and more on the artists and sponsors participating in this year's #CedarsOpenStudios.
Visitors will have a second opportunity to view Sean P. Miller and Joshua von Ammon's exhibitions from 8-10PM during Danielle Georgiou Dance Group's performance of SWARM.
---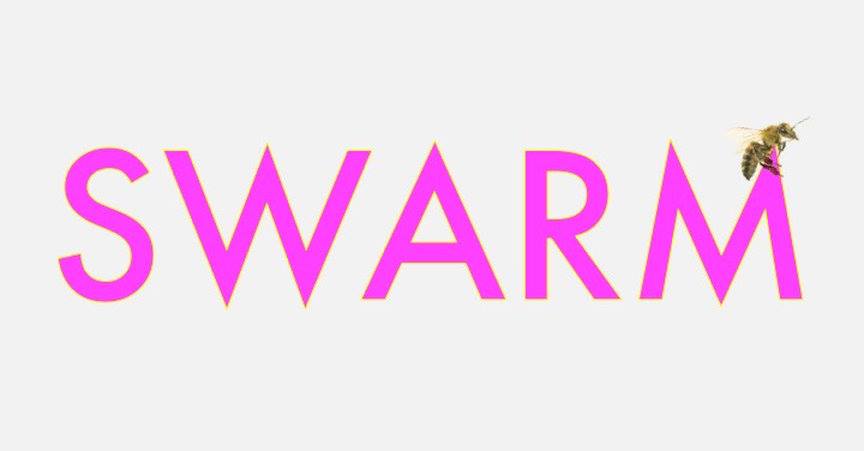 Ro2 Art in partnership with Freefall Festival presents
Danielle Georgiou Dance Group: SWARM
Saturday, November 19, 8:00pm
An original production choreographed by Danielle Georgiou
SWARM is a new work exploring the cyclic nature of time, space, and language. This piece was created by choreographer and artist Danielle Georgiou, and is an on-going project with the performers and musician, Donovan Jones (Black Taffy).