Exhibition extended through December
Join The MAC in a Celebration to
Cherish the Lives of Our Furry Friends
Day of the Dead for our Beloved Pets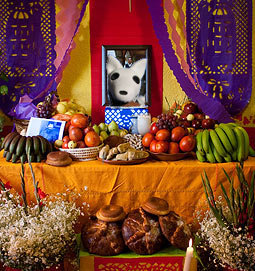 Día de los Muertos
para nuestras queridas mascotas
Dia de los Muertos
is a traditional holiday that originates in Mexico and other Latino countries, during which family and friends gather to remember and celebrate their ancestors and other loved ones. An altar is erected, food and fruit are brought, mementos assembled, candles are lit and memories and stories revisited.
Join The MAC in this all-day Day of the Dead for our Beloved Petscelebration on November 1, from 11am-9pm.
Everyone is invited to bring a photograph* or portrait* of your beloved
pet to be included on the altar.
Bring your photos to The MAC on Wed-Fri, October 29, 30, 31
(to participate, please RSVP to paloma@the-mac.org)
*copies only! No originals! Unframed, 8″x10″ max, and pinnable.