The MAC Patrons + Artists Collective is a group of active MAC enthusiasts with a passion for contemporary art who seek an opportunity to meet others who share similar interests and would like to enhance their knowledge of the current art scene. The MAC PAC members receive exclusive benefits and are encouraged to become more involved through roles on program, exhibition and membership committees.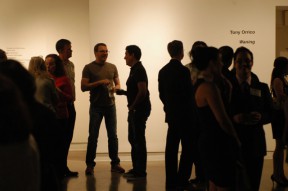 Tony Orrico: Waning, The MAC August 2013 exhibition was The MAC PAC's Inaugural Sponsored Exhibition, selected and spearheaded by MAC PAC members.
The MAC PAC members enjoy:
Happy hours at Uptown's hottest venues
Exclusive exhibition opening receptions at The MAC
MAC PAC sponsored exhibitions
Private tours of galleries, collector's homes and artist's studios
Cocktail soiree with guest artist
10% off MAC bookstore
Discounts to MAC events and Kitchen Dog Theater performances
+ much, much more!
You are invited to JOIN!
$85 for individuals join
$120 for couples join