MAC Patrons + Artists Collective events are open to all MAC PAC level members and provide a setting for local artists and patrons to come together and build community. For more information on joining go here.
---
The MAC family extends a huge thanks to ARTIST MEMBERS*
*The individuals listed above have joined as members at the MAC PAC level or above. If you are a MAC PAC member and would like to be listed please contact assistant(at)the-mac.org
---
UPCOMING EVENTS…
TIN RANCH STUDIO TOUR
The MAC family and artists of the Tin Ranch are pleased to invite you to a private studio tour. Join us for some art, some drinks, some great company, and get to know some of the artists that give the Cedars neighborhood its nickname, the Artists' District.
When: Thursday, May 30, 7 PM
Where: Tin Ranch, 1419 Griffin St E, Dallas, Texas 75215
Kindly RSVP by Monday, May 27 at 5 PM to assistant(at)the-mac.org
Parking available in front with street parking throughout the neighborhood.
---
MORE ABOUT THE TIN RANCH
The Tin Ranch is a charming compound in the Cedars with homes and studios of local artists and creatives.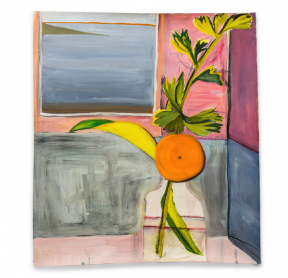 Image: Carroll Swenson-Roberts, California Still Life, 2019
Through often-intricate mixed-media works on paper, Carroll Swenson-Roberts creates interior landscapes, private spaces where one's inner life has the capacity to flourish. Incorporating her own personal and curated symbols in smaller works, Swenson-Roberts positions these objects within the context of the natural world, signifying the relationship between her interior self and the outer world. Her recent debut solo exhibition at Ro2 Art, displayed a long term history of the artists reflections on the inner vs. the outer and the joy of ordinary life constructed into personal narratives with works developed over a 30-year span.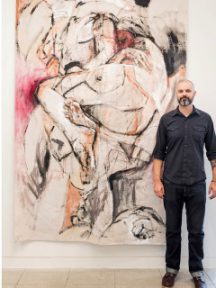 Jay Bailey's paintings are figurative combinations of line drawings and watercolor stains. His figures balance between quick gesture, rendered realism, and abstract mark making with much of his work's imagery coming from his personal experience.
Jay Bailey was born in Reno, Nevada in 1976. He has a BA in Fine Art from the University of Nevada in Reno, undertook post-baccalaureate studies at the San Francisco Art Institute and has his MFA from the University of Nevada, Las Vegas. He has shown his work in group and solo exhibitions in the United States, Canada, and Australia.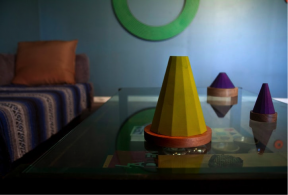 Image: Ryan Goolsby at Randy Guthmiller Center for the Advancement of the Arts in Dallas. Photo by Nan Coulter for Dallas Morning News.
Randy Guthmiller is an artist, educator, and founder of SHAPE ZINES, an artist focused zine label, and DALLAS ZINE PARTY, the original North Texas zine fair and annual celebration of zines and DIY micropublications. He has worked with institutions such as Nasher Sculpture Center, The Modern Art Museum of Fort Worth, Crow Collection of Asian Art, Oil and Cotton, and The Menil Collection.
According to the Dallas Morning News, Randy Guthmiller Center for the Advancement of the Arts "create[s] an experience for visitors unthinkable in an art gallery, establishing new possibilities for interaction and dialog." This Center is anything but typical, Guthmiller invites visitors into his living room where he exhibits local artists, for an intimate art experience. A Place For My Stuff, an exhibition by Shelby David Meier is currently on view.