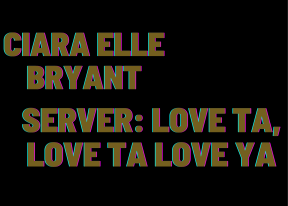 October 16, 2021 – January 8, 2022

Ciara Elle Bryant's Server: Love Ta, Love Ta Love Ya puts forth a dynamic culmination of the Dallas artist's recent artistic projects. Encompassing each gallery space of The MAC, the exhibition serves as a visual bibliography of Bryant's personal histories as they relate to the wider experience of being Black in America. Utilizing a wide range of media, from video to photography, collage, and ready-made objects, Bryant manifests her encyclopedic collection of digital ephemera from Black popular culture into large-scale installations. Social media posts, news stories, memes, viral videos, and the like are presented en masse, offering a physical space for Black identity and self-actualization to take center stage.
Named after Timbaland's 1997 single Luv 2 Luv U, the exhibition encompasses a nostalgic view of the relics and memories that shaped Bryant's upbringing. Central to the exhibition, a new work, Run It Back (2021), utilizes numerous analog televisions to display looping video and imagery. The installation harkens to a bygone era when TV reigned supreme in disseminating the popular music and media that remain pivotal to the artist's existence. In Server: Checks On The Block (2021), Bryant pays homage to the Nike Air Force 1 and its long-standing impact on street fashion, solidifying the sneaker's cultural significance. Through works like these, the exhibition as a whole establishes an origin story for the cherished objects, experiences, and values that drive Byrant's work as a visual artist.
This project was supported, in part, by a Foundation for Contemporary Arts Emergency Grant.
ABOUT THE ARTIST
Ciara Elle Bryant is an intercreative working and residing in Dallas, TX. She is the inaugural recipient of the CADD x Maddrey Prize, awarded in 2020 to a Black artist living and working in Dallas County. Bryant holds a Masters of Fine Art from Southern Methodist University. Through photography, video, mixed media, and installations, Bryant discusses blackness by focusing on how identity and culture exist in the new millennium. Bryant also teaches and facilitates artist workshops for youth and adults while working as a practicing artist. Bryant's approach to research and curatorial practice has been integral to her process of furthering conversations surrounding black culture in art as well as historical studies.
ABOUT THE CADD x MADDREY PLLC PRIZE
The 2020 Prize was open to Black artists living or working in Dallas County and submitted portfolios were reviewed by an esteemed panel of jurors: Vivian Crockett, Curator of Contemporary Art at the New Museum and former Nancy and Tim Hanley Assistant Curator of Contemporary Art at the Dallas Museum of Art, and Lise Ragbir, former Director of Art Galleries at Black Studies, University of Texas. Bryant was awarded the prize along with a solo exhibition to be displayed in 2021.
About The MAC
Founded in 1994, The MAC is a 501(c)(3) nonprofit arts organization that stands as an advocate for creative freedom, presenting visual art in all its forms. It supports emerging to established local, regional and international artists by offering the opportunity for exhibition and experimentation and by providing a forum for critical dialogue, with inclusivity and promoting diversity as core values.