The MAC is proud to announce our 2022 Student Juried Exhibition. We are committed to continuing our legacy of fostering a welcoming environment for emerging artists in our community. In alignment with those values, we wanted to provide student artists within the region with opportunities to learn more about the art community in Dallas and to help them pursue potential careers in the arts. 
This call was open to undergraduate art students, MA, MFA and PhD candidates at schools within a 50 mile radius of Dallas. Students from a variety of schools were selected out of a myriad of entries to participate in the show by our panel of jurors. The following students were selected to participate in the show: 
Aliyah Scobey (UNT) Cal Thompson (UTD) Cassidy Prado (TWU)
Emily Potts (UNT) Gaik Tan (TWU) Hannah Kratsman Robles (UNT)
Humna Raza (UTA) Jesus Trujillo (UTA) Joseph Rodriguez (Richland College)
Lauren Allen (UNT) Marley McMillan (UNT) Max Marshall (TCU)
Michelle Torres (UTA) Michelle Vo (UTA) Niva Parajuli (SMU)
Omer Moran (UTA) Paul Armstrong (UNT) Reagan Reuter (Brookhaven College)
Reyna Ramirez  (UTA)
EXHIBITION WINNER: HUMNA RAZA (University of Texas at Arlington)
WINNING PIECE: 'Grasping and Sinking'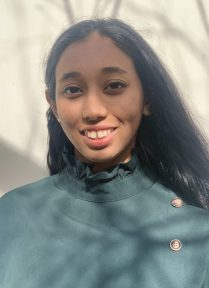 Across the waters in hot, wind swept lands.
 Snagged, snapped, and sundered,
 I've collected my tools and emotions in the pool of my void.
My youngest years were spent in Jacksonville, Florida. My youth and early teens in Karachi, Pakistan. My young adulthood years in Fort Worth, Texas. I am not entirely American nor am I truly Pakistani. I have found myself to be caught in the limbo between the two for the last two decades. But, being in this state of uncertainty led me to becoming a strong and passionate artist.
Along my journey I have completed a B.F.A from Texas Woman's University in 2019 and am currently an Intermedia M.F.A candidate at the University of Texas at Arlington.
ARTIST STATEMENT:
I am a well of blood and tears,
And I am overflowing.
"The works are an ambiguous accumulation of emotions that were once unyielding but have since bled out like an open wound.
My paintings and drawings have become a reflection of some of my most private thoughts, a visual representation of the overbearing stress and anxiety I have come to deal with as I've grown older. I explore these undisclosed feelings through the representation of hands and hair. Hands have the power to create and destroy while hair has energy and deep ties that are both symbolic and cultural.
Following this subject matter of hair and hands is the idea of creating abject artwork. There are certain qualities of the abject I find visceral but beautiful. These works are physical representations of suppressed emotions meant to create tension and unnerve but also capture the interest of a viewer."
The MAC 2022 Juried Student Exhibition: JUROR TALK, hosted by Gallery Manager Aisha Haider
ABOUT THE JURORS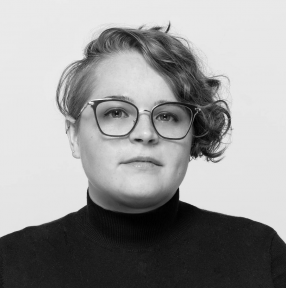 Krista Chalkley– Krista Chalkley (they/them, b. 1994) is a multidisciplinary artist and arts professional based in Dallas, TX.  Conjuring themes of emotion, interconnection, and queerness, their work explores the expansive  possibilities of our existence on an individual and collective level. Through sentimentalism, surrealist  imagery, and elements of the ethereal, the artist relates such expansiveness with the breadth of the  natural and supernatural world. 
Krista received a BA in Visual Arts from The University of Texas at Dallas in 2018. Since graduating, their  work has been exhibited in multiple group shows at local venues such as Artspace111, Fort Worth  Community Arts Center, and in the yearly Rising Star exhibition at the Turner House in which local  gallerists nominate participating artists. Their first solo exhibition entitled a thin place was presented at Ro2 Art in spring of 2021. 
In addition to being an artist, Krista has worked throughout their career to facilitate education,  programming, and community building for several museums, galleries, and arts organizations in Dallas.  In 2019, The Dallas Design District recognized Krista for these efforts and granted them the annual  Young Apprentice Award. Currently, Krista serves on committees benefitting the Contemporary Art  Dealers of Dallas, The MAC, and the Emergency Artists' Support League, and works at Erin Cluley  Gallery as the Assistant Director and Manager of Operations.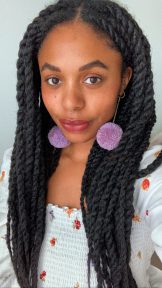 Ari Brielle– Ari Brielle is an emerging visual artist born and based in Dallas, Texas. Her work explores the politicization of the Black American femme body, identity and experience. Painting from photographs of women and femmes in her life, Brielle creates her own visual vocabulary that chronicles Black contemporary issues of beauty despite pain.
Brielle completed her BA at the University of North Texas in 2016, where she cultivated her studio practice and studied Interdisciplinary Art and Design. She is currently pursuing an MFA in Intermedia at the University of Texas at Arlington. In 2017 Ari Brielle was named one of Dallas' Rising Stars, and her work has been included in group exhibitions across DFW. In 2019 the artist held her second solo exhibition, Safe Place, at the Oak Cliff Cultural Center in Dallas, TX. Two pieces from that body of work have been featured in print publications–one in Bitch Magazine, and one on the cover of Sana Sana, a book of poetry by Ariana Brown.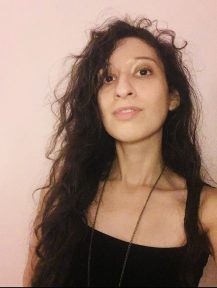 Anam Bahlam– Anam E is a detribalized displaced southern native born in Oak Cliff, Dallas. They learned how to make tamales from their mother, who learned from her bisabuela from la Huasteca. At the Pratt Institute, Anam learned how to mix plaster. At the Vermont College of Fine Arts, Anam learned how to defend their symbols.From 2012-2019, they curated exhibitions challenging identity, liveness, space, and memory. In 2020, Anam created an international biennial for memes. Anam has shown at 500X, Ro2 Art, and Maurizio Cattelan's Family Business Gallery.
CATALOGUE:
————————————————————————————————————-
SUBMISSION INFORMATION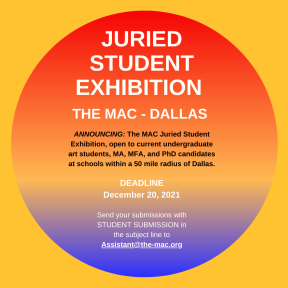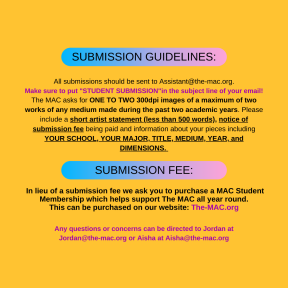 DEADLINE HAS BEEN EXTENDED TO MIDNIGHT ON SUNDAY, DECEMBER 26th, 2021!
The MAC is proud to announce its 2022 Juried Student Exhibition!
This call is open to current undergraduate art students, MA, MFA and PhD candidates at
schools within a 50 mile radius of Dallas. With this call, we hope to foster a strong and
welcoming connection with emerging artists in our community and to provide local students an encouraging opportunity to confidently pursue careers in the arts.
The selected works will be shown at The MAC with an opening reception on Saturday, January 15, 2022.
DEADLINE FOR SUBMISSION: December 20, 2021.
SUBMISSION GUIDELINES: All submissions should be sent to Assistant@the-mac.org. Make sure to put STUDENT SUBMISSION in the subject line of your email! The MAC asks for one or two 300dpi images of a maximum of two works of any medium made during the past two academic years. Please include a short artist statement (less than 500 words), notice of submission fee being paid and information about your pieces including YOUR SCHOOL, YOUR MAJOR, TITLE, MEDIUM, YEAR, and DIMENSIONS.
SUBMISSION FEE: In lieu of a submission fee we ask you to purchase a $30 MAC Student Membership which helps support The MAC all year round. This can be paid using the donation button on our website or via the purchase of a MAC Student Membership.
We are excited to announce our panel of jurors for this exhibition! Our panel is composed of three emerging Dallas artists who also serve as gallery assistants and assistant directors for prominent Dallas art galleries: Evita Cortez, Gallery Assistant, Ro2 Art; Ari Brielle, Gallery Assistant, Talley Dunn; and Krista Chalkley, Assistant Director of Erin Cluley Gallery.
If you have any questions please reach out to our board president, Jordan Roth at
Jordan@the-mac.org or our gallery manager, Aisha Haider at Aisha@the-mac.org.