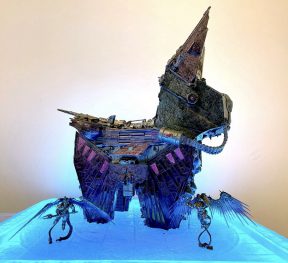 The MAC is proud to announce 'Uncolonized: A Vision in the Parallel' by Angel Cabrales. El Paso based sculptor and mixed media artist Angel Cabrales uses science fiction to relay social commentary through his work. In 'Uncolonized: A Vision in the Parallel', Cabrales explores his vision of the Western Hemisphere untouched by European colonization. This body of work centers around a re-imagined legacy of the Indigenous peoples of Latin America and expands on their achievements in culture, science and technology had they been unhindered by colonial invasion. This exhibition is a celebration of ethnic heritage and the rich cultural history of the Indigenous people of Latin America. The show will open at The MAC on Saturday, March 19th with an opening reception from 6PM – 9PM and will run through Saturday, May 14, 2022 closing with an artist talk from 2:30PM to 4PM.
ARTIST STATEMENT:
"Uncolonized: A Vision in the Parallel is a peek into a parallel world, where the Western
Hemisphere averted colonization, and the indigenous people of the lands thrived unobstructed. This body of work celebrates the indigenous heritage of people like me and is intended to invoke curiosity into the untaught histories of our Meso-American legacy.
Growing up Mexican-American along the border in El Paso, we were taught to take pride in our Mexican heritage, but it wasn't until I was older that I realized there was a large part missing. My Family could track their Spanish lineage easily and did so proudly. When I asked about our other half, I was met with confusion, generalization, or dismissiveness. I spoke with many other friends, who were also Latino, and they experienced similar responses. They knew that they were of Spanish descent, but the indigenous side was vague. This led me to research not only where I came from but the civilizations as well.
What I discovered was that I not only came from a culturally rich lineage (Rarámuri and
Zapotec) but highly sophisticated and technological advanced societies as well. From the vulcanization of rubber by the Olmec to the astronomy and mathematics of the Maya to the architectural wonders of the Mexica, there was a lot to learn and be proud of from our people. And none of it was taught in schools! With this exhibition, I hope to inspire others to research their own affluent heritages and fully embrace their complex ancestry. The Uncolonized is a utopian world of bountiful wonders, where all the indigenous people united to form a superpower in the world. A world of Aztechnonauts exploring the heavens; Mayathmaticians unlocking the secrets of the universe through theoretical equations; Olmchemists creating new polymers; and alloys to move the world forward and Zapotecknical engineers building the architecture of the future. It is a SciFi-inspired vision of not what could have been, but through multiverse theory, what is currently happening in another universe."
ABOUT THE ARTIST: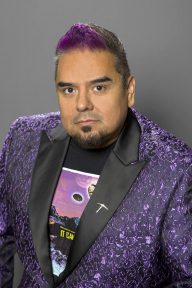 Angel Cabrales, MFA, is an Assistant Professor in Sculpture at the University of Texas at El Paso. He received his Bachelor of Fine Arts from Arizona State University and Masters of Fine Arts from The University of North Texas. Angel views everything as an artistic resource and utilizes this in all his creations, from his extensive experience with a variety of mediums and styles, to the intangibles, such as his upbringing in the El Paso Borderlands, his work grows and expands with the requirements presented from each new idea. His father, a retired engineer at White Sands Missile Range, instilled Angel with a great interest in science and engineering, while his mother, a politically active stay at home mother, taught him the importance of community and social work through her volunteer work. Angel's work is an amalgamation of his upbringing resulting in social/political commentary with an engineered flare. The artwork's concept ultimately dictates the medium needed for its creation, so artistic evolution is intrinsic in his philosophy. Cabrales is an artist fellow for the Looking for America project out of Washington D.C. and has exhibited in the International TransBorder Biennial, Texas Biennial, AmoA Biennial 600, the Chamizal National Memorial, the Mexic-Arte Museum, MAC Dallas, the Mesa Contemporary Arts Museum in Mesa, AZ, The Latino Cultural Center of Dallas, El Paso Museum of Art, Wave Pool Gallery in Cincinnati, OH, Grand Art Haus in Phoenix, AZ, Baton Rouge Gallery, and collaborated with the AMBOS Project (an intervention collaboration along the Border) from Los Angeles. He is also featured in the Icons and Symbols of the Borderland book by Diana Molina and La Frontera: Artists along the Mexican/American Border by Stefan Falke. Angel was recently interviewed by the Smithsonian Air and Space Museum to be included in the Estrellas y Cuentas initiative on Latino Futurism and be selected to participate in the Art in Embassies Program, with work in the Ambassador's residence in Mexico City. He is represented by the Ro2 Gallery in Dallas, TX and the Royse Contemporary in Scottsdale, AZ.
Cabrales is also a member of the International Sculpture Center, the Texas Sculpture Group, and a board member in the JUNTOS art collective. Angel was a juror for the 2020 Student Achievement Awards for Sculpture Magazine. Cabrales teaches all levels of Sculpture at UTEP, created Experimental Systems in Sculpture focused on STEAM elements in art and the Neon Sculpture program. He is head of the EASSI (Engineering + Art + Science = Social Impact) team that works on community engaged projects involving the arts and sciences.

ABOUT THE MAC
Founded in 1994, The MAC is a 501(c)(3) nonprofit arts organization that stands as an advocate for creative freedom, presenting visual art in all its forms. It supports emerging to established local, regional and international artists by offering the opportunity for exhibition and experimentation and by providing a forum for critical dialogue, with inclusivity and promoting diversity as core values.