6:30-7:30pm: Terry Hays will discuss his current exhibition, Irreversible Change.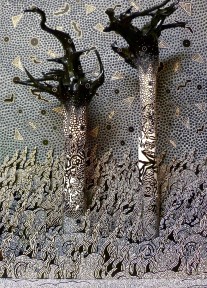 Models for theatrical set designs, images from the comics of Frank Miller and pop up cards of the late 1970´s influence Terry Hays' exhibition Irreversible Change. Hays views his sculptures as set design models for an unnamed theatrical tragedy. These models are used to describe natural disasters of unimaginable scale, such as the tsunami in Japan, the earthquake in Haiti and wind driven fires in California. Hays considers the unforgettable moment in time when those involved in these disasters faced the paralyzing realization that an irreversible change had suddenly occurred. The sculptures are intended to be icons and symbols for that exact moment, and stand as reminders to the fragility of life.
Terry Hays is an artist currently living and working in Dallas, Texas. Hays received his Bachelor of Science from West Texas State University, Canyon, Texas in 1970 and his Master of Fine Art from Texas Christian University in 1974. Hays spent much of his career as a professor at various universities in Canada and Texas teaching painting, drawing and scenic painting in the theater department at Southern Methodist University. Most recently, Hays participated in 5×5 an exhibition at the Arlington Museum of Art. He has also exhibited extensively throughout the DFW area with Ro2 Art, 14th Street Gallery with various group exhibitions at the Bath House Cultural Center, The MAC, and Dallas Contemporary. Terry Hays is represented by Ro2 Art in Dallas, Texas.
FREE AND OPEN TO THE PUBLIC